Think of this – that the writer wrote alone, and the reader read alone, and they were alone with each other.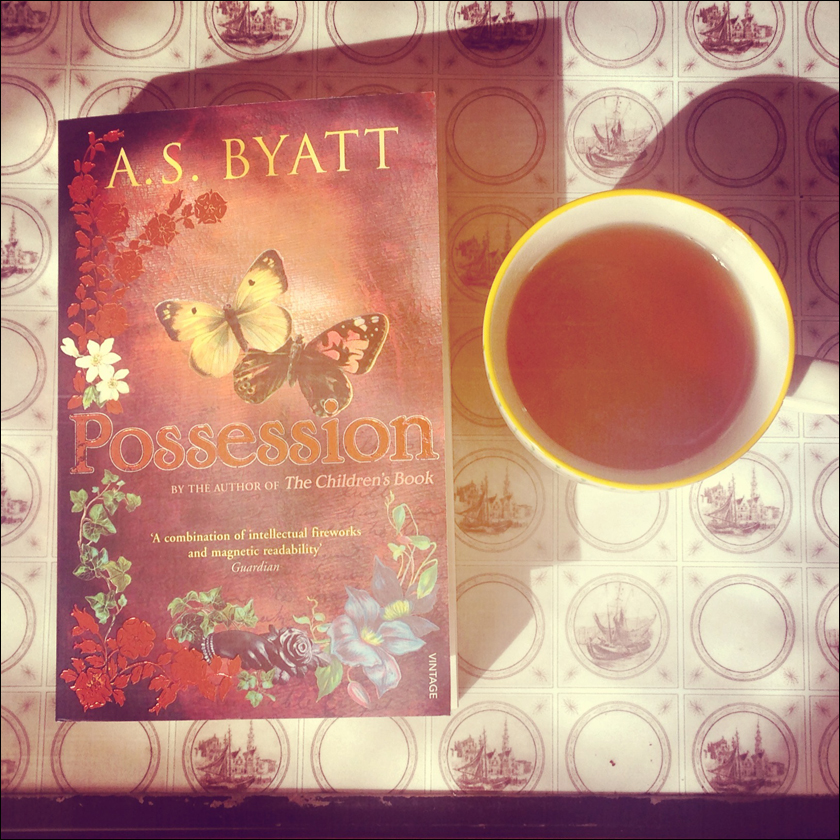 Title: Possession
Author: A.S. Byatt
First Published: 1990
My Rating: 4 of 5 stars (average rating on Goodreads: 3:85)
I would recommend this book to: The patient reader looking for a challenge AND an amazing read.
The Beginning: The book was thick and black and covered with dust.
This is my third Byatt novel, and I feel the same way as I did with the first two: I was intrigued, entertained, felt that my life had been enriched with characters that would stay with me forever, with stories that touched me deeply. And yet, it feels like I've run a marathon.
Byatt is not easy. In fact, she's damned difficult. Amazing, but difficult. But I've found a trick that enables me to read her works without breaking my neck. You may not like it, but here it is: I don't read every single word. You see, in Byatt's novels, there are parts that I really like, where I read every single word carefully, and there are parts I don't care about, which I just skim through.
If I don't do this, I would never read Byatt. And that would be a shame, because she's a brilliant storyteller and a very creative writer. Possession proved this. I never knew what to expect when turning the page. You could be met with anything from Victorian poems to modern prose to old diary entries. I found that refreshing, although not all of it was for me. No matter how hard I try, poems just aren't my thing.
I cannot let you burn me up, nor can I resist you. No mere human can stand in a fire and not be consumed.
Possession is a classic story within a story, but here the story within the story is uncertain, as it's pieced together by the characters in the 'real' story via poetry, letters and diary entries – and some parts we don't even know where come from, whether it's just Byatt throwing in suggestions, playing with our lucky minds.
A beautiful woman, Simone Weil said, seeing herself in the mirror, knows "This is I." An ugly woman knows with equal certainty, "This is not I." Maud knew this neat division represented an over-simplification. The doll-mask she saw had nothing to do with her, nothing.