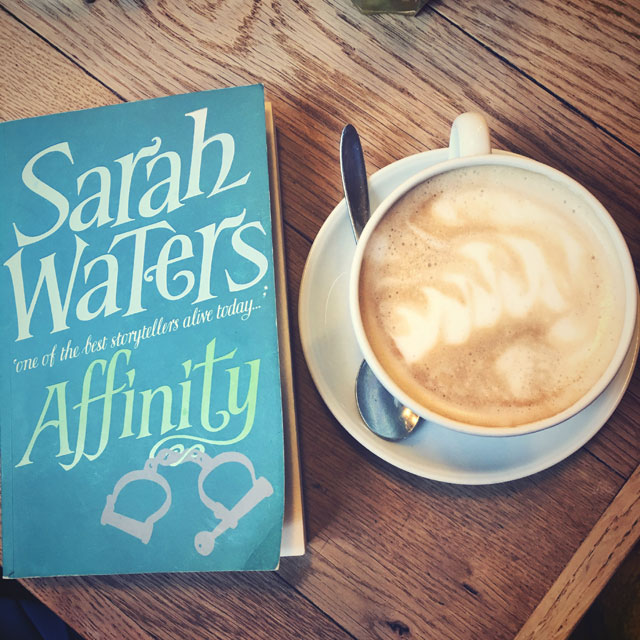 Titel: Affinity
Forfatter: Sarah Waters
Først udgivet: 1999
Jeg vil anbefale bogen til: Dig, der interesserer sig for kønsroller i 1800-tallet
Sådan starter den: I was never so frightened as I am now.
3 af 5 stjerner
I 'Affinity' befinder vi os i England i 1870'erne. Vi følger Margaret Prior, der netop er startet som en slags besøgsven i et kvindefængsel. Her bliver hun draget af den mystiske spiritualist, Selina Dawes, der vender op og ned på Margarets tilværelse. Er Selina virkelig en bedrager? Er der et bånd mellem Margaret og Selina? Og hvem er mest fængslet: Selina bag tremmer, eller Margaret, der holdes nede af sin mor og samfundets normer?
Perhaps, however, it is the same with spinsters as with ghosts; and one has to be of their ranks in order to see them at all.
Lad mig starte med at sige, at jeg knus-elsker Sarah Waters' romaner. Hun kan det der med at skrive medrivende page-turners. Kun en enkelt gang (The Paying Guests) har hun skuffet mig, ved at være klichéfuld omend underholdende.
Men 'Affinity' kom bag på mig. Jeg kedede mig bravt! Historien kom aldrig rigtig igang. Det virkede som om Sarah Waters gerne ville fortælle om kvindefængsler i 1800-tallet, så hun får fyret en masse facts og beskrivelser af, men glemte måske lidt plottet. Jag fandt 'Affinity' frygtelig langtrukken og overvejede meget seriøst at give op. Men noget (læs: stædighed) drev mig til at læse videre.
Jeg er glad for den beslutning: de sidste 100 sider var som en ægte Sarah Waters-pageturner; fyldt med spændning og et plot-twist, der kaster nyt lys over hele romanen. Da jeg nærmede mig slutningen var jeg så grebet, at jeg slugte de sidste 50 sider og først slukkede lyset kl. 23 (det lyder måske ikke af noget, men plejer altså at dejse omkuld efter 2 sider kl. 21:15. På en vild aften.).
And so I looked at her, and felt a rush of pity. And what I thought was: You are like me.
Nu har jeg kun kærlige tanker for 'Affinity'. Den har sat spor i mig, og den får 3 solide stjerner fra mig. Men jeg vil alligevel være påpasselig med at anbefale den til andre. Derfor tør jeg kun anbefale den til Sarah Waters-fans og læsere med stor interesse for fængsler, spøgelser eller kønsroller i 1800-tallet.