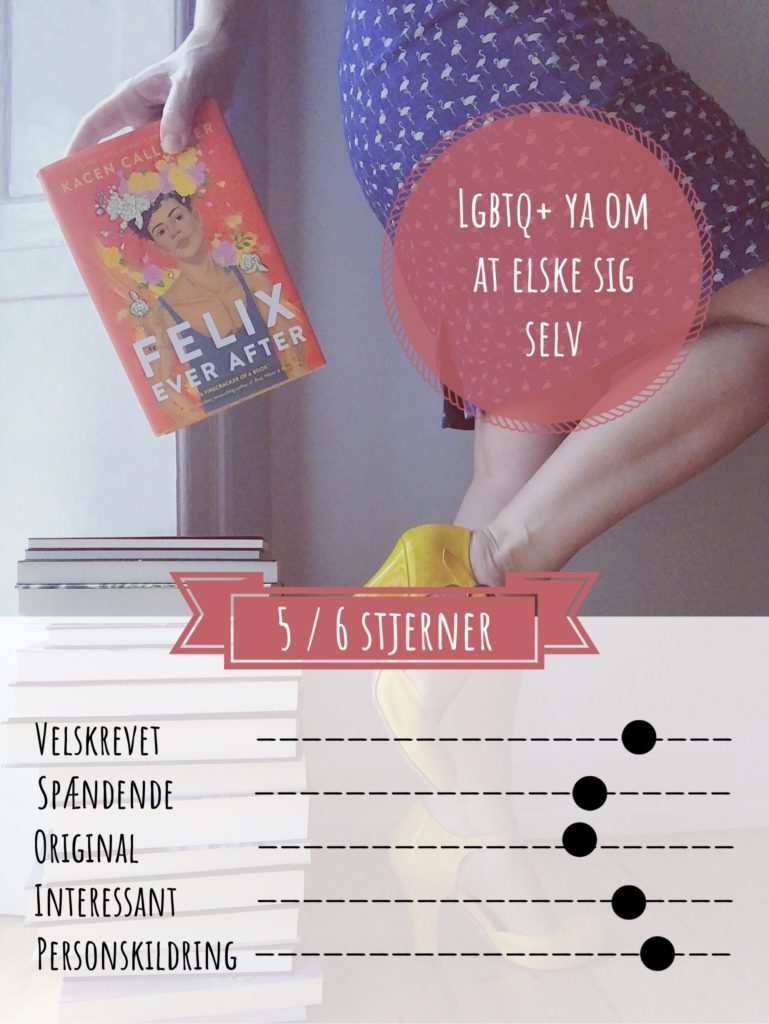 Titel: Felix ever after (ikke oversat til dansk)
Forfatter: Kacen Callender
Sådan blev bogen min: jeg har købt den
Felix Love har ironisk nok aldrig været forelsket. Som sort, transkønnet, queer og forladt af sin mor, tror han ikke, at der findes et menneske, der kan forelske sig i ham. I det hele taget har han svært ved at tro på sin egen ret til at eksistere og forvente noget særligt af livet. Og det bliver ikke bedre, da en troll begynder at chikanere ham og stille spørgsmålstegn ved hans ret til at være den han er.
To know that there are people out there who hate me, want to hurt me, want to erase my identity, without ever seeing me or knowing me, just like there are people out there who hate me for the color of my skin – it's enraging, infuriating, but it also hurts.
Hvis du har fulgt med på min Instagram, ved du, at jeg elskede denne bog. Jeg hørte den på lydbog i juli og var nødt til at eje den bagefter. Jeg følte, at den hørte hjemme i min samling. Så snart mit fysiske eksemplar ankom, læste jeg den forfra – og nød den endnu mere anden gang.
Der er så mange ting, der bare fungerer godt i denne roman: den er let læst, underholdende, sjov, spændende, hjerteskærende, rørende, romantisk, lærerig og vigtig. En ret sjælden kombination. Bogen giver et godt indblik i, hvordan det kan føles at være transkønnet – dvs. efter erkendelserne, operationerne, hormonerne og reaktionerne. Den handler ikke om overgangen, men om livet og følelserne bagefter.
En ting jeg ser gå igen i de negative anmeldelser af bogen er, at nogle har svært ved at holde af Felix som karakter; mange finder ham egocentreret og usympatisk. Jeg kunne netop godt lide, at han ikke var perfekt; han er så navlepillende, at han ikke ser, hvad der sker foran hans næse. Han er så optaget af sine egne problemer, at han ikke opfatter, hvor svært hans bedste ven har det. Han er hævngerrig, fordomsfuld og til tider ondskabsfuld. Men jeg elskede ham for det: han er ægte. Og han er ikke bleg for at indse sine fejl og rette op på dem. Han er et menneske på godt og ondt og han har fået et helt særligt sted i mit hjerte.
It's easier to accept hurt and pain, sometimes, than love and acceptance. It's the real, loving relationships that can be the scariest.
Slutningen blev dog lidt for meget for mig. For perfekt måske … men sådan har jeg det ofte med amerikanske romaner.
Jeg kan varmt anbefale denne skønne og vigtige YA.