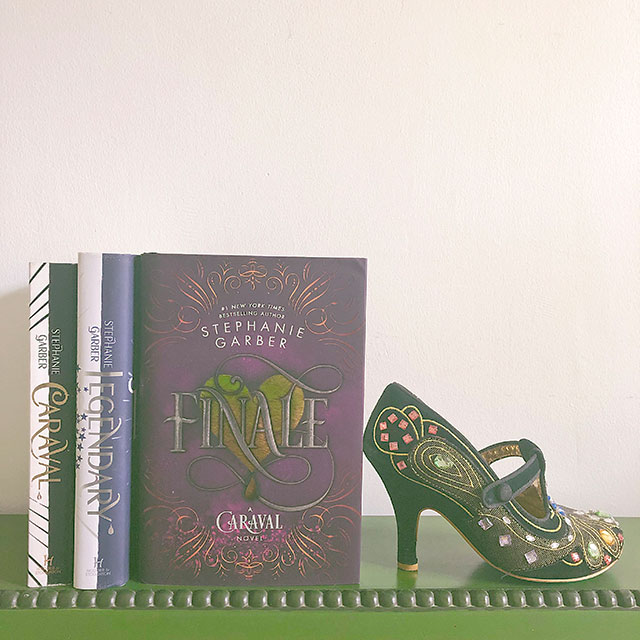 Titel: Finale (Caraval #3)
Forfatter: Stephanie Garber
Sådan blev bogen min: jeg har selv købt den.
He might have been a liar and a villain, but he made both things look very good.
Mine forventninger var tårnhøje. I sin tid rømte jeg mig ind i seriens første roman, Caraval, og elskede dens stemning og maleriske beskrivelser. Da jeg nåede til 2'eren, Legendary, blev jeg bekymret: kan den leve op til sin forgænger? Men det med den svære 2'er blev gjort til skamme: 2'eren var endnu bedre end 1'eren. Så jeg var rolig da jeg endelig sad med 3'eren, Finale, i hænderne; Stephanie Garber kan jo dét dér.
Men nej. Det var bare helt forkert. Rodet. Og fjollet. Sikke en skuffelse.
Den starter egentlig meget godt; sproget tryllede mig hurtigt ind i Caravals drømmende univers, men magien blussede desværre langsomt ud. Plottet manglede struktur og stak i alle retninger. Vi manglede spillet i 3'eren, som bar konceptet i 1'eren og 2'eren. Det var det, der bandt de magiske hændelser og beskrivelser sammen og skabte en rød tråd mellem twists og drømme. I stedet væltede karaktererne rundt og blev styret af pludselige indskud og bizarre planer.
Også karaktererne haltede i forhold til de to forgængere: Scarlett var decideret irriterende og usympatisk i starten, og vi manglede en god skurk vi kunne beundre i hemmelighed. Også sproget mistede sin glans som ellers har været kendetegnet ved denne serie. Den sidste halvdel var decideret kedelig, men den endelige slutning OK.