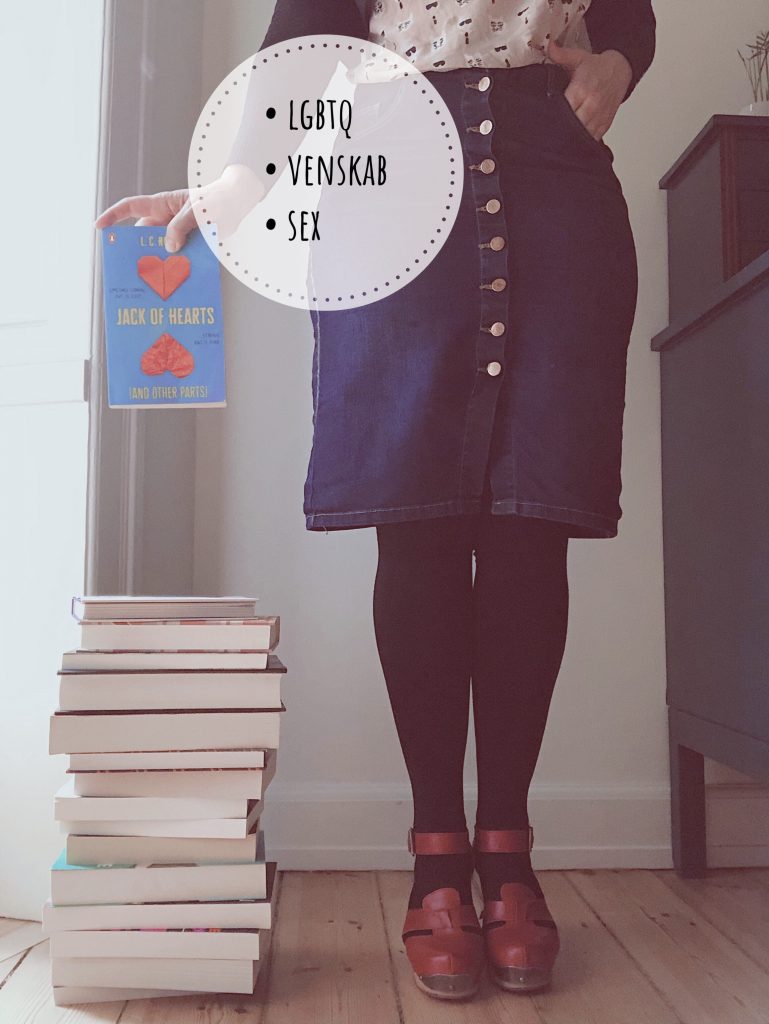 Titel: Jack of hearts (and other parts)
Forfatter: Lev A.C. Rosen
Sådan blev bogen min: Jeg købte den efter at have læst rosende ord om den hos Paperfury.
Jack of hearts handler om en high school- dreng, der er vild med make up, fester og fyre. Han er meget åben om sin seksualitet og er offer for meget sladder og overdrevne rygter på sin skole. Da Jack får en klumme, hvor han rådgiver teenagere om sex, begynder han at modtage breve fra en hemmelig beundrer. Først er brevene søde, men langsomt bliver de mere og mere besidderiske og kontrollerede: afsenderen bryder sig ikke om Jacks promiskuitet og vil gøre alt for at stoppe ham i at udtrykke sig selv.
Jack of hearts er en meget hjertevarm fortælling om seksuel frihed og om at være tro ved sig selv. Via Jacks klumme komme vi omkring mange relevante emner som seksuel identitet, samtykke, fetisher, kærlighed og retten til selv at vælge fra og til.
Jeg elskede Jack, vores hovedperson. Han er seksuelt frigjort, går i skole med make up på og griner af rygter. Hvis folk har er problem med ham, kan de rende ham. Og han har et hjerte af guld: han er ærlig overfor sine partnere, loyal overfor sine venner og givet kærlige og kloge råd i sin sex-klumme. Og så er han sjov og god til at shoppe og feste.
I personally have mixed feelings about the whole "coming out" concept. On the one hand, coming out is important to show solidarity, encourage folks to come out, and so forth. On the other hand, the entire concept is essentially playing into straight society's game that anything but strict heterosexuality is somerthing that needs to be announced, warned about.
Med risiko for at lyde som Jacks besidderiske og indbildte stalker, følte jeg, at Jack blev en af mine gode venner under læsningen. Derfor var det også ekstra hårdt at vende den sidste side. Pludselig blev Jack revet ud af mit liv og jeg sad tilbage med gevaldige boglige tømmermænd.
Plottet var godt skruet sammen og spicet op med spørgsmål og svar fra Jacks klumme, der gav lidt baggrundshistorie om Jack. Det fungerede godt. Jeg gættede dog ret hurtigt, hvem der var afsenderen af de modbydelig kærligheds-/trusselsbreve, men det gjorde egentlig ikke så meget. Til gengæld ville jeg gerne have lidt mere at vide om det store hvorfor efter hvem blev afsløret. Slutningen skulle lige have haft lidt ekstra kærlighed på det punkt. Men den allersidste side var alligevel helt perfekt – især den sidste sætning fik mig til at smile stort.
Jack of hearts er perfekt til dig, der kan lide Sex Education – den er dog meget mere eksplicit end SE.
5 / 6 stjerner