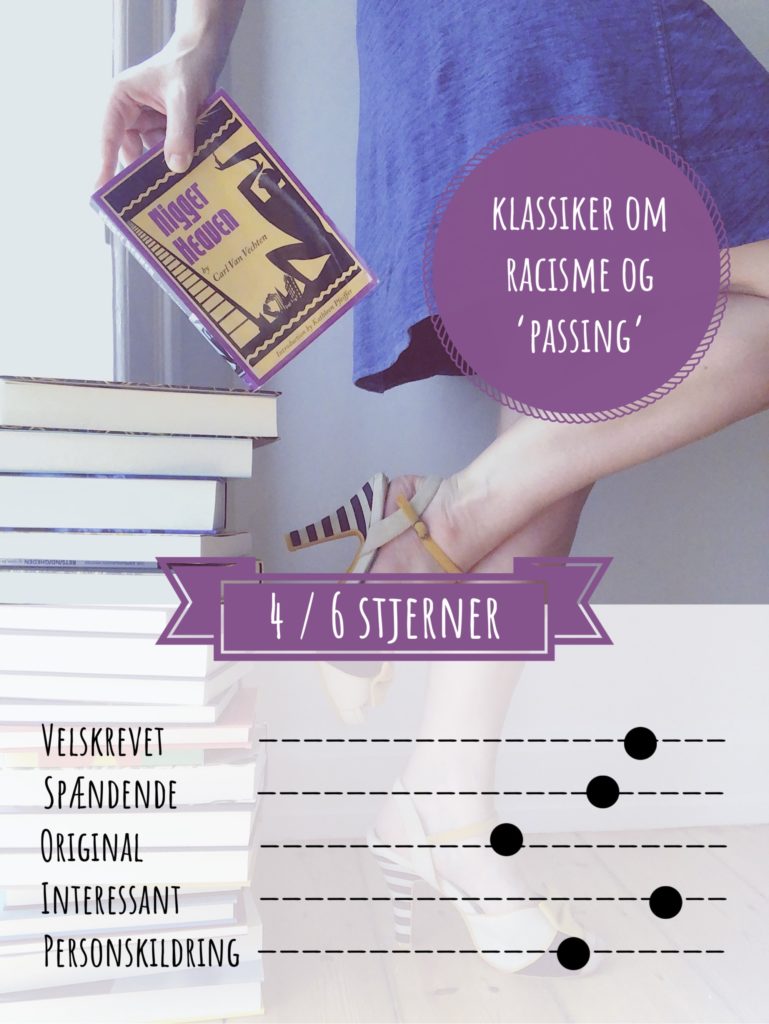 Titel: Kig på billedet – jeg kan ikke få mig selv til at skrive det – her er link til bogen på Goodreads
Forfatter: Carl Van Vechten
Sådan blev bogen min: jeg købte den i forbindelse med mit studie for 100 år siden, og har nu genlæst den.
Bogen er en klassiker fra 1926, der handler om Harlem i New York. Vi følger en ung sort kvinde, Mary, der arbejder som bibliotekar og må se hvide kvinder blive forfremmet over hende, selvom hun er dygtigere og mere arbejdsom. En dag møder hun en ung sort mand, Byron, der lige er blevet færdig på universitetet. Han drømmer om at blive forfatter og kæmper for at få arbejde i New York. Det eneste arbejde han dog kan få som sort, er lavtlønnede servicejob, hvor hans sorte kolleger vender ham ryggen. Mary og Byron indleder et stormfuldt forhold, der ætses op af had og afmagt.
Plottet i Bogen er på mange måder ret simpelt, men bogens temaer og karakterskildringer er super interessante og lærerige. Mange af Mary og Byrons sorte bekendte har så lys en hudtone at de kan vælge at 'passe/gå over'; dvs. de kan præsentere sig selv som hvide og få samme muligheder som hvide, men dermed også vende ryggen til sin sorte baggrund og identitet.
Bogen giver et interessant indblik i Harlem i 20'erne, den belyser kompleks racisme og raceidentitet med en enkel og underholdende historie og fantastiske karakterer. Jeg var så heldig at have adgang til både den originale engelske udgave og en gammel dansk oversættelse. Jeg læste primært i den engelske, men fandt hjælp i den danske oversættelse til nogle af slangudtrykkene. Den danske var lettest at læse, men var også lidt frustrerende; fx er ordet 'sandwich' oversat til 'smørrebrød'. Jeg tror ikke, at der var smørrebrød i Harlem i 1920'erne. Men jeg forstår godt, at en dansk oversætter i 1920'erne valgte det ord.
We sit in our places in the gallery of this New York theatre and watch the white world sitting down below in the good seats in the orchestra. Occasionally they turn their faces up towards us, their hard, cruel faces, to laugh or sneer, but they never beckon.
Måske bogen fortjener at blive genudgivet med en ny oversættelse?