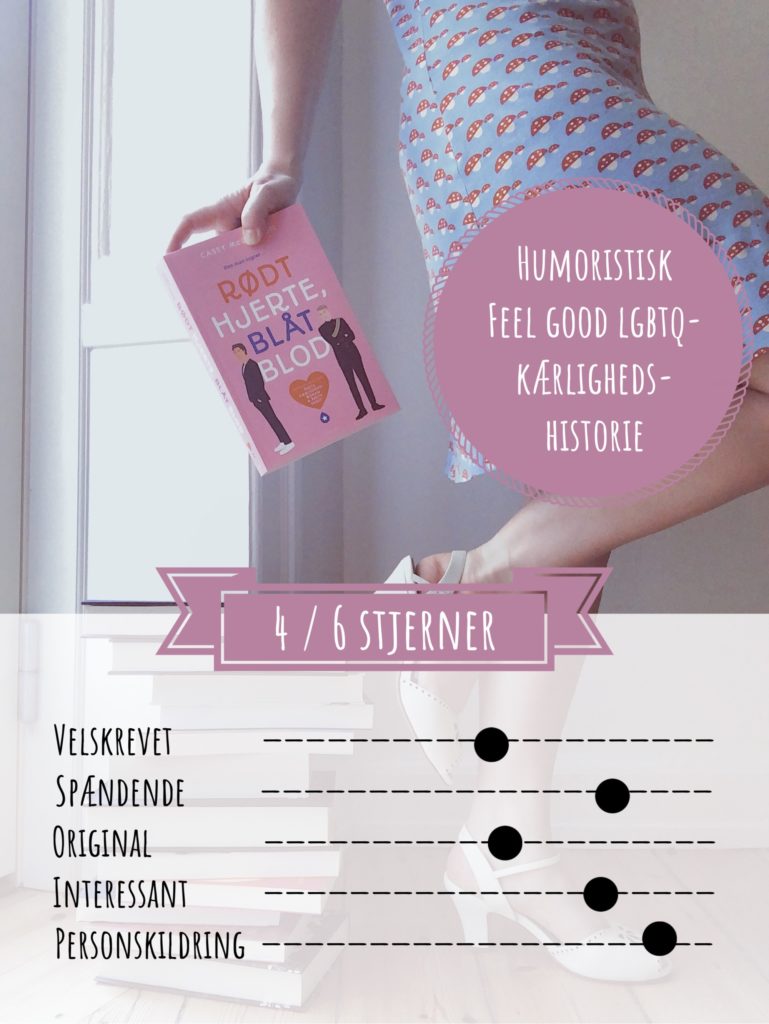 Titel: Rødt hjerte, blåt blod
Forfatter: Casey McQuiston
Sådan blev bogen min: anmeldereksemplar fra Forlaget Memoris
Alex er søn af USAs første kvindelige præsident. Midt i hendes kamp for at blive genvalgt, kommer Alex til at lave en offentlig skandale med sin ærkefjende Henry, prinsen af Wales. For at redde den royale og politiske skandale, må Alex og Henry lade som om de er bedste venner.
Det her var lige den feel good-roman jeg trængte til at skyde sommeren igang. Der var så mange elementer jeg elskede ved denne bog. For det første var jeg ret begejstret for kærlighedshistorien – men jeg er også en sucker for from-enemies-to-lovers-fortællinger (jeg bebrejder Jane Austen og Mr. Darcy).
Romanens karakterer var bedårende og leverede kavalitetsunderholdning hele vejen igennem: de var intelligente, flabede og humoristiske – præcis som jeg kan lide dem. Jeg faldt pladask for deres snappy dialoger, tekstbeskeder og breve.
Jeg kan ikke lade være med at klappe begejstret af emnet i bogen: kærlighed imellem to mænd, der begge er slaver af offentlighedens anerkendelse. Det var rigtig fint fremført og jeg heppede på vores to helte (og deres familier) hele vejen igennem. Bogen belyser, at selvom vi er kommet langt mht. menneskerettigheder inden for lgbtqa+ er der langt igen. Virkelig langt.
Jeg troede altid, at det her var det mest utilgivelige ved mig, men du opfører dig, som om det er noget af det bedste ved mig.

Fra 'Rødt hjerte, blåt blod
Sprogligt er jeg lidt splittet … jeg synes ikke, at sproget var så flydende; der var mange knudrede sætningskonstruktioner, jeg snublede over linjerne her og der, og tog mig selv i at måtte starte forfra på afsnittene flere gange (især i starten). Der var også deciderede sjuskefejl rundt omkring, hvilket altid irriterer mig (om det er oversættelsen eller originalteksten ved jeg ikke).
Andre steder fungerede sproget rigtig fint: de skarpe dialoger og det skiftende sprog i brevudvekslingen imellem vores to helte, der viste deres forskellige personligheder og opvækst. Det var en fornøjelse at læse.