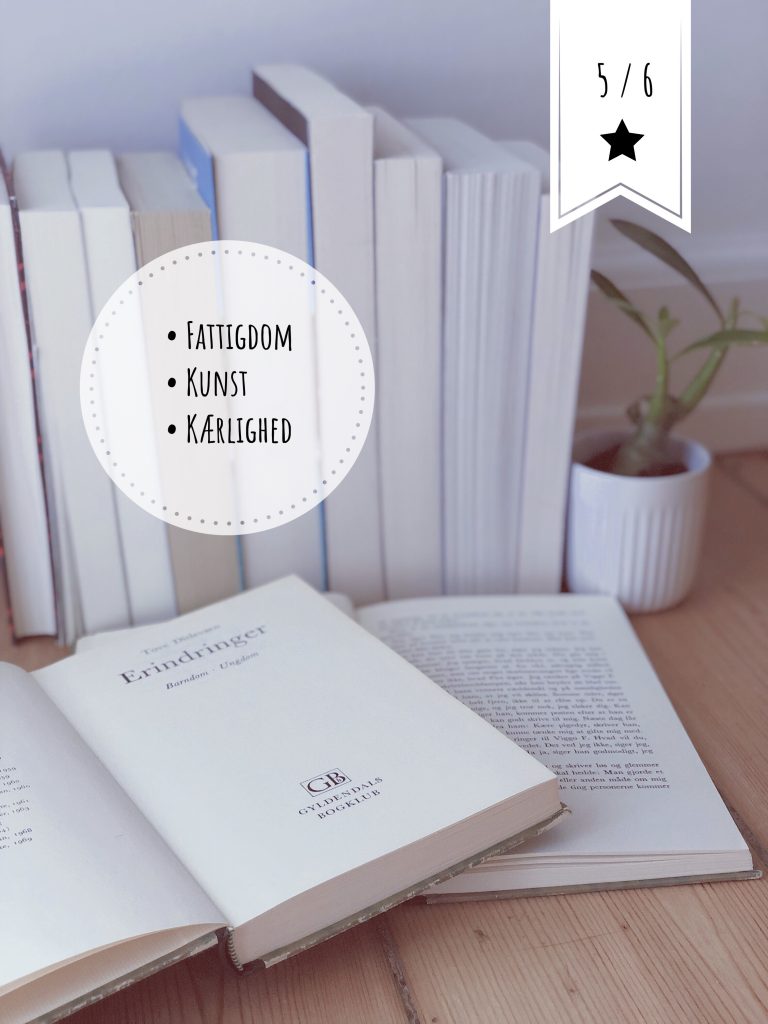 Titel: Erindringer: Barndom, Ungdom og Gift
Forfatter: Tove Ditlevsen
Sådan blev bøgerne mine: aner det ikke – de stod bare i min reol
Du skulle også gøre lidt mere ved dig selv. Du skulle købe en forårsdragt i stedet for den cykel. Når man ikke er køn af naturen, siger hun, må man hjælpe lidt på det. Min mor siger ikke sådan noget for at såre mig. Hun er bare fuldstændig udvidende om, hvad der foregår i andre mennesker.
Tove Ditlevsens erindringer er delt op i tre dele:Barndom, Ungdom og Gift. Barndom handler om hendes opvækst i fattigdom i en lille lejlighed med sin arbejdsløse far, sære mor og storebror. Tove er en ensom pige, der har svært ved at få venner og længes efter at skrive og læse digte. I Ungdom følger vi hendes gradvise frigørelse fra forældrene og den voksende længsel efter at flytte for sig selv og skrive.
Det var en fornøjelse at læse om hendes voksende ambitioner og styrke, længslen efter at have sit eget liv i stedet for forældrenes. Man kan ikke lade være med at tænke på Virginia Woolf, når man læser et afsnit som fx dette:
Men jeg ville så gerne have et sted, hvor jeg kunne øve mig på at skrive rigtige digte. Jeg ville gerne have et rum med fire vægge og en lukket dør. Et rum med en seng, et bord og en stol, med en skrivemaskine eller en blok og en blyant, ikke mere. Jo, en dør jeg kunne låse.
Gift fortsætter hvor Ungdom slap, og vi følger hendes forhold, ægteskaber og karriere som forfatter. Den starter let og humoristisk men udvikler sig til en grusom hverdagshorror, da hun gifter sig med en mand, der gør hende til narkoman for at holde på hende. Det er noget af det mest modbydelige jeg længe har læst og jeg var påvirket af den i flere dage efter.
Tove Ditlevsens erindringer er en fabelagtig, uhyggelig og inspirerende læseoplevelse. Som hendes andre værker, er den velskrevet og imponerende ærlig. Jeg beundrer hendes mod til at vise sårbarhed og fejl. Kan klart anbefales til Tove-fans og i det hele taget alle, der interesserer sig for dansk historie.
5 / 6 stjerner