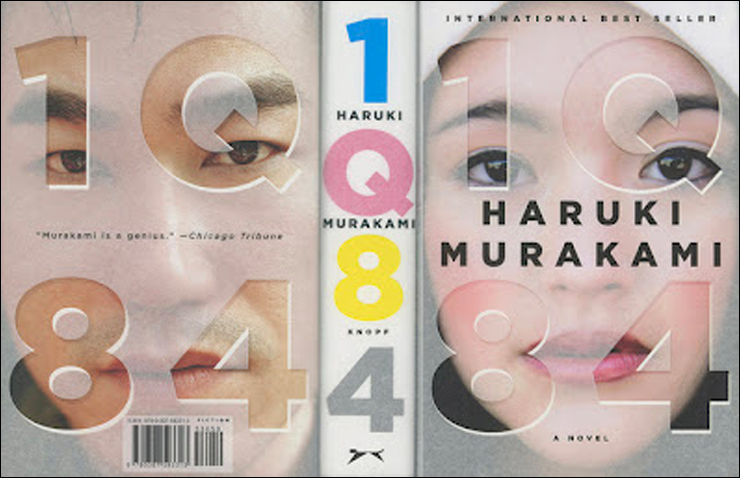 Title: 1Q84
Author: Haruki Murakami – author of Kafka on the Shore and Norwegian Wood.
First Published: 2010
My Rating: 4 of 5 stars (average rating on Goodreads: 3.78)
Format: Audio book, 46 hours
First Sentence: The taxi's radio was tuned to a classical FM broadcast.
I would call Murakami a Japanese John Irwing with a dash of David Lynch. And what a nice combination!
There's no doubt that Murakami's writing is excellent. And when you read a book you really like that's so long, it almost becomes part of your life and you miss it when it's over. I've been listening to 1Q84 on audio for more than two months. And it's been two great months where the audio has been my great companion on my way to and from work, at the gym or when I was just hanging out at home. My boyfriend would sometimes listen in if he was in the same room or had the door open, and he often exclaimed, "This is really good." And it was.
That being said, I don't think I would have enjoyed it nearly as much, had I read it instead of listening to it. It would probably have been too long-winded and there are many repetitions. But I tend to be more patient with an audio where my focus is not 100 % on the story and where it doesn't matter that some things are repeated.
I'm won't describe the plot here. I tried once to explain what the novel was about. It took 40 minutes. So we'll just skip this part. But I will repeat what I always say about Murakami's stories: his stories are well-written, thrilling, fun and touching with interesting characters and captivating plots. But I didn't get it. I always enjoy his stories and I always have the feeling that I'm just about to fit all the pieces together. But I never do. And like the sucker I am, I keep coming back for more.
Click here for more reviews of 1Q84

Der er ingen tvivl om, at Murakami skriver fremragende. Og når man læser en bog, du virkelig kan lide og som er så lang, bliver den næsten en del af ens liv, og man savner den når den er slut. Jeg har lyttet til 1Q84 som lydbog i over to måneder. Og det har været to dejlige måneder, hvor lydbogen har været min tro følgesvend på min vej til og fra arbejde, i fitnesscentret eller når jeg bare slappede af derhjemme. Min kæreste hørte nogle gang brudstykker af bogen, hvis han var i samme rum eller havde døren åben, og sagde tit "Det her er virkelig godt." Og det var det sgu også.
Når det er sagt, tror jeg ikke jeg ville have nydt bogen lige så meget, hvis jeg havde læst den i stedet for at lytte til den. Den ville nok have været for langtrukken, og der er mange gentagelser i den. Men jeg har en tendens til at have mere tålmodighed med en lydbog, hvor jeg ikke er 100 % koncentreret, og hvor det ikke gør noget, at nogle ting bliver gentaget.
Jeg vil ikke beskrive plottet her. Jeg prøvede engang at forklare, hvad romanen handler om. Det tog 40 minutter. Så vi springer denne del over. Men jeg vil gentage, hvad jeg altid siger om Murakamis historier: hans bøger er velskrevne, spændende, sjove og rørende med interessante karakterer og fængslende plot. Men jeg fatter dem ikke. Jeg nyder altid hans historier, og jeg føler altid, at jeg er lige ved at regne den ud. Men det gør jeg aldrig. Og som den sucker jeg er, kommer jeg tilbage efter mere.
Jeg ville kalde Murakami for en japansk udgave ag John Irving med en sjat David Lynch. En god kombi!


Follow me: Bloglovin * Facebook * Twitter