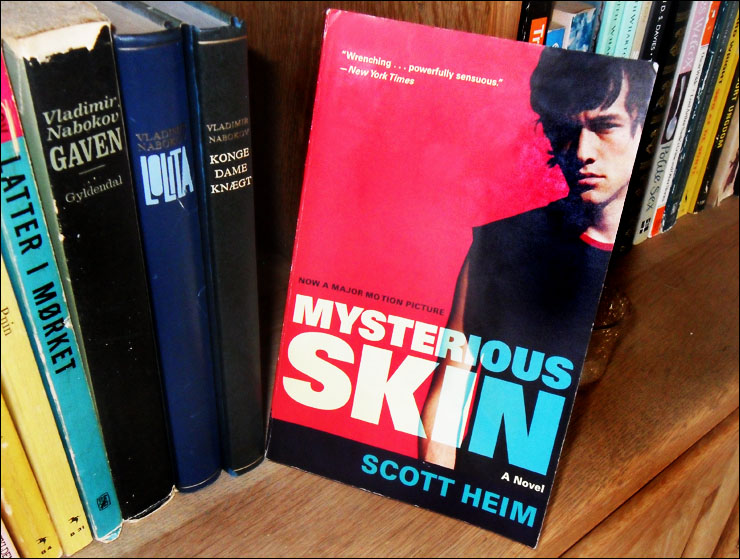 Title: Mysterious Skin
Author: Scott Heim
First Published: 1995
My Rating: 3 of 5 stars (average rating on Goodreads: 4.08)
Format: Paperback, 292 pages
First line: The summer I was eight years old, five hours disappeared from my life.

The story is about Brian and Neil, two boys who are sexually abused by their softball coach when they're 8 years old. Both boys deal with this very differently. Neil embraces the experience, confusing it with love and affection, whereas Brian is so traumatized that he completely represses the memory. But he knows something horrible did happen, and for many years, he confuses the flashes of memories with UFO abduction.
This part of the story was very engrossing, and Scott Heim deals rather well with such a heavy subject. I also enjoyed Neil's rather disturbing story. I could have done without the many descriptions of his sexual encounters – they were very explicit and there were so many.
What I didn't like about the book were the many point of views – there were 5 people telling the story of 2 boys! And naturally that entailed many side stories, which bored me a bit. To me it seemed like filling in a novel that perhaps should have been a novella or a short story.
The writing was nothing special. It was, to me, quite neutral and kind of flat. It merely states what happens, what the characters think and what they say to each other with a couple of clichés here and there. There's no poet lost in Scott Heim, that's for sure. And I didn't find one single quotation that I would like to share with you.
So there you have it: 3 stars for a good story that could have been better.

---
Historien handler om Brian og Neil, to drenge, der begge blev seksuelt misbrugt af deres træner, da de var 8 år gamle. De to drenge forholder sig meget forskelligt til dette. Neil tager oplevelsen til sig og forveksler den med kærlighed og hengivenhed, hvorimod Brian er så traumatiseret, at han fuldstændigt fortrænger oplevelsen. Men han er klar over, at der skete noget forfærdeligt, og de glimt af minder han har, forveksler han i flere år med en UFO-bortførelse.
Denne del af historien var rigtig god, og Scott Heim beskriver det meget tunge emne glimrende. Jeg kunne også godt lide Neils ret foruroligende historie – kunne dog godt have undværet de mange seksuelle scener – de var meget eksplicitte og der var mange af dem.
Det jeg ikke kunne lide ved bogen var de mange synsvinkler – der var 5 forskellige karakterer til at fortælle historien om de 2 drenge! Og det indebar naturligvis mange sidehistorier, der kedede mig en smule. For mig virkede det som rent fyld. Måske skulle romanen have været en novelle i stedet.
Sproget er ikke noget særligt. Det virker for mig helt neutralt og nærmest fladt. Det er blot beskrivelser af, hvad der sker, hvad personerne tænker, og hvad de siger til hinanden med et par klichéer her og der. Der er bestemt ikke gået en digter tabt i Scott Heim. Og jeg kunne ikke finde et eneste citat, som jeg gerne ville dele med jer.
Så det blev til 3 stjerner for en god historie, der kunne have været fortalt bedre.