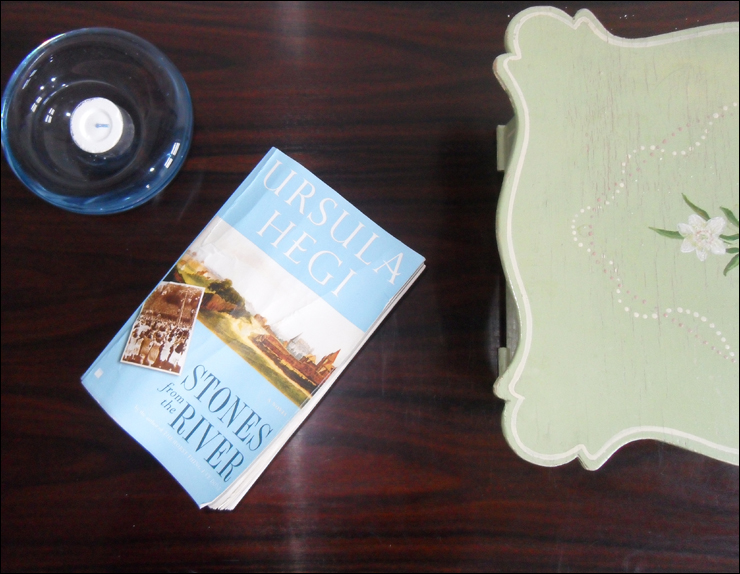 Title: Stones from the River
Author: Ursula Hegi
First Published: 1994
My Rating: 4 of 5 stars (average rating on Goodreads: 4.0)
Format: Paperback, 525 pages
First Sentence: As a child Tudi Montag thought everyone knew what went on inside others.
From reading the first sentence of Stones from the River, I knew immediately that this would be a novel with a good story and excellent writing. And I had expected no less. This is my third Hegi novel and my expectations were high. And she didn't let me down.
Reading this book was a very emotional experience. With crystal clear writing, Hegi not only describes but also makes you feel her characters' thoughts, feelings and reactions to the things that happen to them. The novel is actually quite packed. I occasionally had to take a break from reading, because it was just too much to take in.
Let me explain by describing the plot. Trudi Montag grows up in a small town in Germany between the wars. She's a dwarf, which means constant alienation from her peers. She wishes desperately to grow and be normal. But she'll always be different. And kids are cruel. The few friends she gets along the way all let her down in some way, and the rest of the kids either ignore or bully her. But Trudi's no victim. She's got cruelty inside her just as well as anyone else.
When she's in her 20s, Hitler enters the scene and changes everything. One can only imagine what it was like living in a small town in Germany at the time; watching you friends and neighbours losing their rights, property and, finally, their freedom. Having to pretend you support something you hate more than you ever thought was possible.
But what really carry the novel through is the characters. Trudi is a complex woman capable of both good and evil. But the novel isn't just about Trudi, it's also about the village and the people who live there. And the same can be said about them: they've got both good and bad sides. And this was brilliantly depicted. I will even go so far and say that the characters were represented with the same clarity and complexity that you see in the works of Steinbeck and Hemingway.
So why, after all this praise, isn't this a 5-star read? Two reasons: 1) It was a bit too long – the many side stories took up a good part of the book and perhaps they could have been cut down a bit. 2) There were too many characters to keep track of.
These two points kept me from having that 'feel' that a 5-star read has – where you just know it without having to think about it. I wish I could give this one 5 stars, as it felt like a 5-star read most of the time. So this is actually a 4.5 star.
Allerede fra den første sætning i Stones from the River, vidste jeg, at dette var en velskrevet roman med en rigtig god historie. Og det var præcist, hvad jeg forventede. Dette er min tredje Hegi roman og mine forventninger var høje. Og hun svigtede ikke.
At læse denne bog var en meget følelsesladet oplevelse. Med krystalklart sprog beskriver Hegi sine karakterers tanker, følelser og reaktioner på de ting, der sker i deres liv – så tydeligt som var dig selv det skete for. Og romanen er ret pakket. Jeg måtte ind imellem tage en pause fra læsningen, fordi det var for meget at kapere.
Lad mig forklare ved at beskrive plottet: Trudi Montag vokser op i en lille by i Tyskland i mellemkrigstiden. Hun er dværg, hvilket betyder konstant fremmedgørelse fra sine jævnaldrende. Hun ønsker desperat at vokse og være normal. Men hun vil altid være anderledes. Og børn kan være onde. De få venner hun får undervejs svigter hende alle på en eller anden måde, og resten af børnene enten ignorere eller mobber hende. Men Trudi er intet offer. Hun har ondskab i sig ligesom alle andre.
Da hun når 20'erne, træder Hitler ind på scenen og ændrer alt. Man kan svært forestille sig, hvordan det var at leve i en lille by i Tyskland på det tidspunkt, at se dine venner og naboer miste deres rettigheder, ejendom og til sidst deres frihed. At skulle lade som om du støtter noget du hader mere end du nogensinde troede var muligt.
Men det der virkelig bar romanen igennem er karakterene. Trudi er en kompleks kvinde i stand til både godt og ondt. Men romanen handler ikke kun om Trudi, den handler også om landsbyen og de mennesker, der bor der. Og det samme kan siges om dem: de har fået både gode og onde sider. Og det var glimrende afbildet. Jeg vil endda gå så langt og sige, at karakterene var repræsenteret med den samme klarhed og kompleksitet, som du kan se i værker af Steinbeck og Hemingway.
Så hvorfor, efter alt dette ros, får bogen ikke 5 stjerner? To grunde: 1) Den var en anelse for lang – de mange sidehistorier optog en god del af bogen, og måske de kunne have været skåret lidt ned. 2) Der var for mange karakterer at holde styr på.
Disse to punkter holdt mig fra at have den "følelelse" som en 5-stjernet læseoplevelse har – hvor du bare ved det uden at skulle tænke over det. Jeg ville ønske jeg kunne give den 5 stjerner, da det føltes som en 5-stjernet bog det meste af tiden. Så karakteren er faktisk 4,5 stjerner.
Follow me: Bloglovin * Facebook * Pinterest * Lookbook * Goodreads