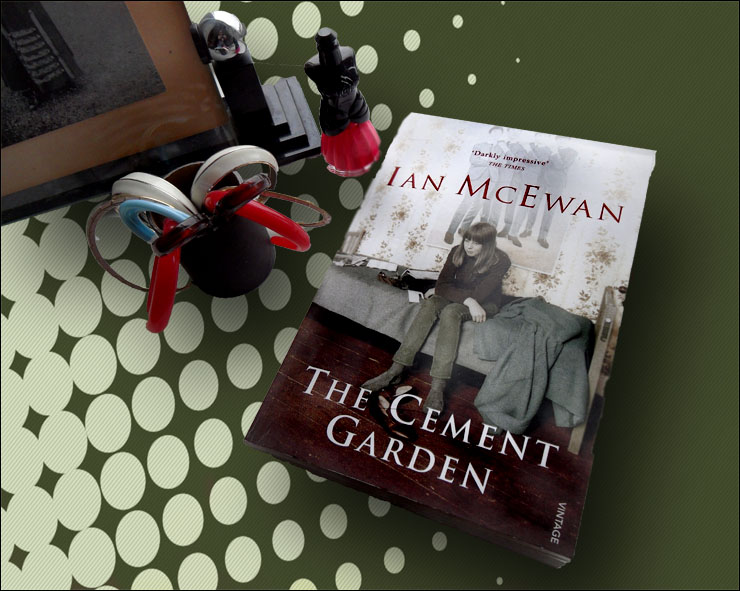 Title: The Cement Garden
Author: Ian McEwan
First Published: 1978
My Rating: 4 of 5 stars (average rating on Goodreads: 3.54)
Format: Paperback, 144 pages
First line: I did not kill my father, but I sometimes felt I had helped him on his way.
The first line pretty much sets the tone of the book and prepares the reader for what's in store: A dysfunctional, unhappy family, tragedy, guilt … quite depressing, really. But nonetheless interesting and deeply disturbing.
We follow four siblings who are forced into adulthood before they're ready, as both their parents die. Terrified of being put in an institution, they don't tell anyone that their mother died. Instead they try to make it on their own.
But this is not one of those cliché stories where the siblings come together and fight for their home – Party of Five-style. They're childish, selfish, unfocused and lazy kids. In other words, they're real. And that's the strength of the novel: you care for these kids even though you may not always like them and wish they would behave differently. But that would have been an entirely different story. Perhaps a more pleasant story, but then it wouldn't be that original.

Den første sætning angiver ret godt tonen i bogen og forbereder læseren på, hvad der er i vente: En dysfunktionel, ulykkelig familie, tragedie, skyldfølelse … ret deprimerende. Men ikke desto mindre er det en interessant og dybt foruroligende historie.
Vi følger fire søskende, der er tvunget til at blive voksne, før de er klar, da begge deres forældre dør. Da de er bange for at blive splittede og komme på et hjem, fortæller de ikke nogen, at deres mor er død. I stedet forsøger de at klare sig på egen hånd.
Men dette er ikke en af de der kliché-historier, hvor søskende holder sammen og kæmper for deres hjem i fællesskab i stil med Vi Bliver i Familien. De er barnlige, egoistiske, ufokuserede og dovne børn. De er med andre ord ægte. Og det er romanens styrke: du kommer til at holde af disse børn, selvom du måske ikke kan lide dem hele vejen igennem og til tider ville ønske de opførte sig anderledes. Men så ville det have været en helt anden historie. Måske en mere behagelig historie, men knap så ægte.