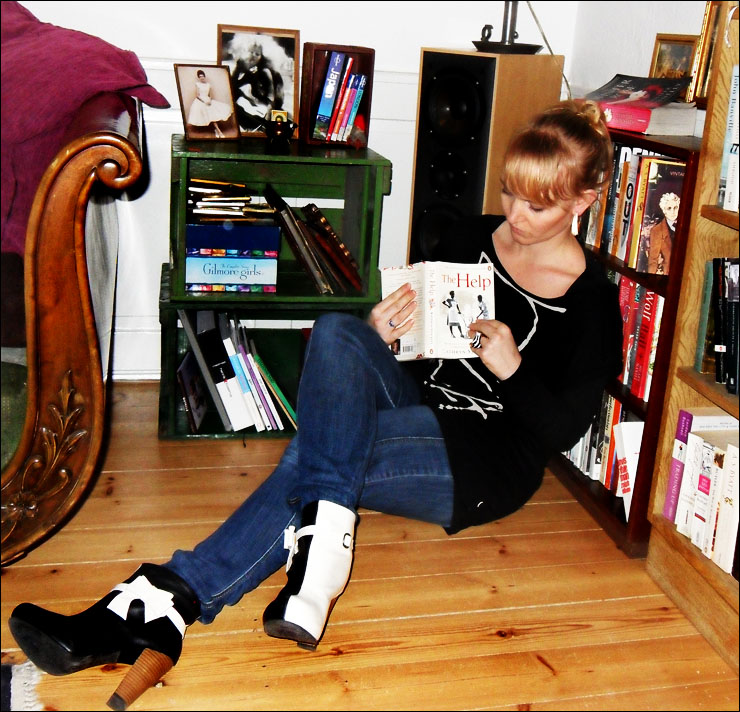 Top:
Forever 21 in Tokyo
Jeans:
Pieces
Boots:
Angie boots from Lola Ramona
Title: The Help
Author: Kathryn Stockett
First Published: 2009
My Rating: 4 of 5 stars (average rating on Goodreads: 4.44)
Format: Paperback, 444 pages
Setting: Mississippi, 1962
First line: Mae Mobley was born on a early Sunday morning in August, 1960.
A lovely well-written story that completely engrossed me. I wanted to keep reading and kept thinking about the characters when I wasn't able to read. The ending was very good and untraditional in many ways, which I found quite refreshing.
My only criticism is that it was very stereotypical … It seems as if Stockett was trying to touch on every relevant subject, which, if you know just a bit about race and genser issues in America in the 1960s, makes it somewhat predictable. And all the points in the book were handed to the reader on a nice little plate, cut out in tiny pieces, so we don't even have to chew to get it the point. The book would be perfect for a school class learning about race and gender roles in the 60s' America.
That being said, this is a story that cannot be told too many times, and it was good to have it repeated. And it was a very touching, enjoyable, emotional and thrilling read. My God, women can be mean! I'll look forward to see what Stockett has in store for us next.