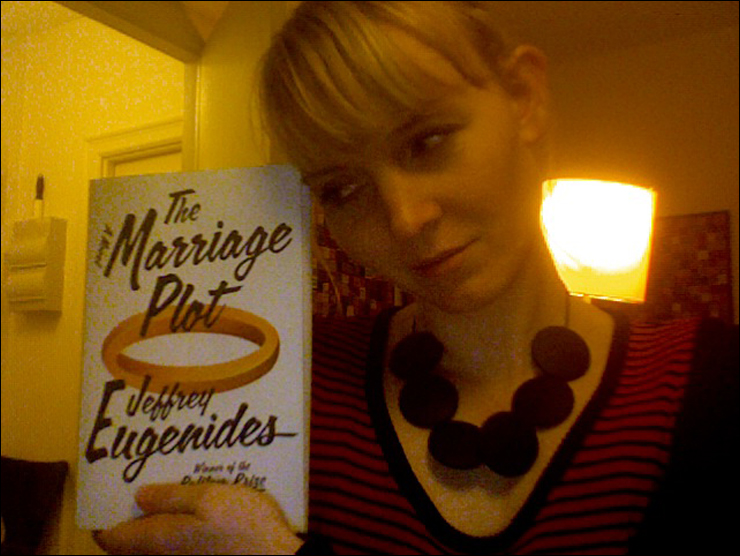 Title: The Marriage Plot
Author: Jeffrey Eugenides – author of The Virgin Suicides and Middlesex
First Published: 2011
My Rating: 4 of 5 stars (average rating on Goodreads: 3.41)
Format: paperback, 406 pages
First Sentence: To start with, look at all the books.
This first line is a sure winner for book lovers like myself.
The novel is about three young students. We meet them on graduation day and follow their lives for about a year. At the centre, we have Madeleine, a literature-major deeply in love with her boyfriend Leonard who suffers from manic depression. The novel depicts how both his manic and his depression affects him, Madeleine and their relationship. This was really well done. Madeleine of course fell for Leonard during one of his more 'normal' periods, and it was very interesting to follow her through his depression and his mania. But don't get me wrong: the book isn't about the disease as such. It's more about love, loyalty and the sacrifices people make when they're in love – and how this sacrifice can come to feel like a prison.
And then there's Mitchell on the sideline – Madeleine's weird religious friend who's been in love with Madeleine for years. After college – and a final rejection from Madeleine – he endures on the almost obligatory trip to Europe and India.
The novel was actually very amusing and made me laugh out loud a few times. And at first I was really excited about it. It's kind of mundane, but I liked that at first – it can be nice to know the details about a character's everyday life. But it got to be too much when I had to read about the lectures the students attend and the theories they study. And Mitchell's obsession with religion drove me insane! I just wanted to get on with the story – and not his story necessarily.
All in all I enjoyed the story, but was a bit disappointed in the novel as a whole. I guess I expected more from Eugenides after Middlesex. I really tried to forget that he's the author of one of my favorite books, but I was still a bit disappointed that my reading experience just didn't reach that level where the book feels brilliant and you know you'll never forget it. Where reading is so much more than just entertainment. But still: The Marriage Plot is a fine, entertaining and quite touching novel about love, literature and relationships between people.
If you're interested, click the picture below to watch an interview with Eugenides where he talks about writing The Marriage Plot: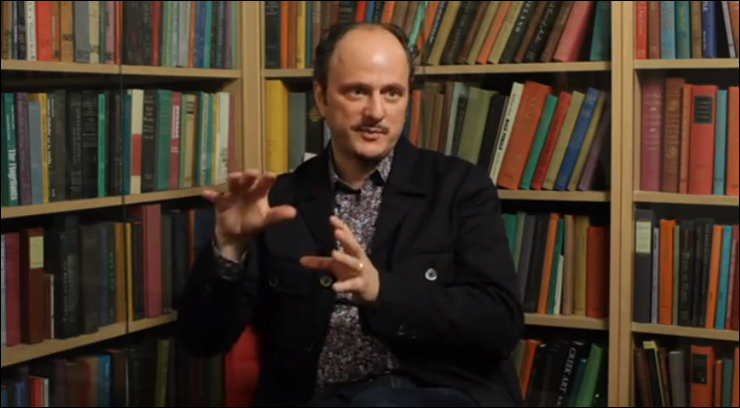 Den første sætning er en sikker vinder for bogelskere som jeg selv.
Romanen handler om tre unge studerende. Vi møder dem på Graduation Day og følger deres liv i ca. et år herefter. I centrum har vi Madeleine, en litteraturstuderende, der er dybt forelsket i sin kæreste Leonard, der læser biologi og er maniodepressiv. Romanen skildrer, hvordan både hans maniske perioder og hans depression påvirker ham, Madeleine og deres forhold. Det er virkelig godt skildret.
Madeleine falder selvfølgelig for Leonard under en af hans mere "normale" perioder, og det var meget interessant at følge hende gennem hans depression og hans mani. Men forstå mig ret: Bogen handler ikke om sygdommen som sådan. Det handler mere om kærlighed, loyalitet og hvordan folk ofrer sig, når de er forelskede – og hvordan dette kan ende med at føles som et fængsel.
Og så er der Mitchell på sidelinjen – Madeleines ven, som har været forelsket i hende gennem flere år. Efter college – og en afgørende afvisning fra Madeleine – tager han på den nærmest obligatoriske rejse til Europa og Indien.
Romanen var faktisk meget morsom og fik mig til at grine højt flere gange. Til at starte med var jeg virkelig begejstret for bogen. Den er meget triviel og beskriver hverdags-elementer, men det kunne jeg egentlig godt lide til at starte med. Men det blev lidt for meget, da jeg skulle læse om de foredrag de deltog i og da deres teorier blev beskrevet. Og Mitchells besættelse med det åndelige og religion drev mig til vanvid! Jeg ville bare videre med historien – og ikke nødvendigvis hans historie.
I det store hele nød jeg historien, men var en smule skuffet over romanen som helhed. Jeg forventede bare mere af Eugenides efter Middlesex. Jeg forsøgte virkelig at glemme, at han er forfatter til en af mine yndlingsbøger, men jeg var stadig en smule skuffet, da læseoplevelse ikke nåede det niveau, hvor bogen føles genial og man ved, at man aldrig vil glemme den. Hvor læsning er så meget mere end bare underholdning. Men stadig: The Marriage Plot er en underholdende og udmærket roman om kærlighed, litteratur og forhold mellem mennesker.