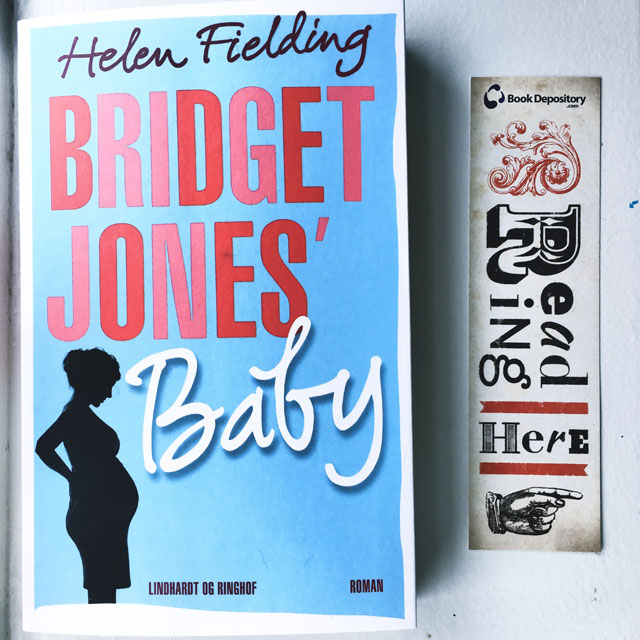 Titel: Bridget Jones' Baby
Forfatter: Helen Fielding
Først udgivet: 2016
Jeg vil anbefale bogen til: Bridget-elskere 🙂
Sådan starter den: Middagstid. London: Min lejlighed. Åh, gud. Åh, gud!
3 af 5 stjerner
Anmeldereksemplar fra Lindhardt og Ringhof
Anyway, i 'Bridget Jones' Baby' besøger vi vores elskede Bridget et sted imellem Bridget Jones 2 (The Edge of Reason) og Bridget Jones 3 (Mad About the Boy). Hun er single og beslutter sig for at slå sig løs. Til et bryllup ender hun i kanen med vores elskede Mark Darcy (suk). Han knuser hendes hjerte, hvilket fører hende direkte ind i Daniels arme (og seng). Selvfølgelig bliver Bridget gravid, og har ingen anelse om hvem faren er.
20:00. Min lejlighed. Stirrer psykopatisk på telefonen. Jeg har ikke hørt en lyd fra nogen af dem. Vil det fortsætte sådan her resten af mit liv? Vil jeg drikke mig fuld i sherry over et spil domino med Mark og Daniel på plejehjemmet og blive rasende, fordi de har knaldet mig og ikke inviteret til en omgang scrabble bagefter?
Det var et kærligt gensyn med Bridget. Hun er sød og humoristisk som altid. Desværre var plottet meget forhastet og kunne godt have brugt nogle flere hverdagsdetaljer. Mændende i Bridgets liv virkede overdrevet barnlige og karikerede, så det blev desværre en lidt skuffende læseoplevelse. Jeg ville ønske, at bogen havde fået lidt mere kærlighed og omsorg. Det synes jeg, at Bridget har fortjent.