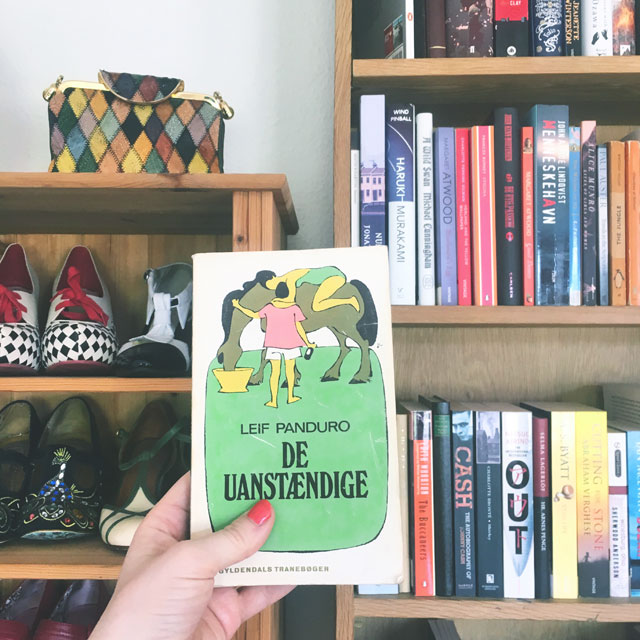 Titel: De Uanstændige
Forfatter: Leif Panduro
Først udgivet:
Jeg vil anbefale bogen til: Dig, der holdt af Den Kroniske Uskyld
Sådan starter den: Dengang Thomas var dreng, længe før den anden verdenskrig, eller den store krig, som den blev kaldt, fik en amerikansk billedhugger den fortvivlede idé at hugge de amerikanske præsidenters hoveder ud i en klippevæg i Pennsylvania.
3 af 5 stjerner
Danmark i 40'erne: Enebarnet Thomas fascineres af nabofamilien, der på stort set alle punkter er den diametrale modsætning af hans egen familie. Hans forældre er strikse og ordentlige. Hos naboen ligger moderen nøgen i sin have med sin elsker imens faderen lukker sig inde i kælderen med sine opfindelser. Deres hest drikker øl og svogeren er åbent homoseksuel. Og så er der tvillingerne, Mick og Topsy, med deres sære, perverterede og symbiotiske forhold. Thomas ved ikke hvem af tvillingerne han føler sig mest draget af. Han vil have dem begge med hud og hår. De lukker ham gerne ind, men han kan aldrig få det de har sammen. Og det får ham til at hade dem. Og misunde dem deres frisind.
Fejlen ved mig, græd Thomas, det er, at jeg tænker for meget over tingene. Bare for lidt siden var jeg ikke et øjeblik i tvivl, men så begyndte jeg at tænke.
'De Uanstændige' er fin lille fortælling om splittet begær og om at finde sig selv. Den første halvdel var underholdende og kugleskør læsning. Jeg elskede den splittede og usikre Thomas' møde med de uanstændige tvillinger og deres vanvittige familie. Den sidste halvdel skuffede mig dog. Den røre tråd forsvandt og pludselig handlede romanen om mostandsbevægelsen. Det er jo sådan set også interessant, men det var ikke lige det jeg havde regnet med. Det var som at føre samtale med én, der pludselig skifter emne; jeg havde lyst til at råbe Hey, det var jo lissom ikke det vi talte om!
Men bogen havde nogle fine detaljer – også i den sidste halvdel. Især den tomhed vores helt følte, da krigen var slut, synes jeg var fint beskrevet. Hvad skulle han nu brænde for, nu da der ikke længere var behov for modstandsbevægelsen?