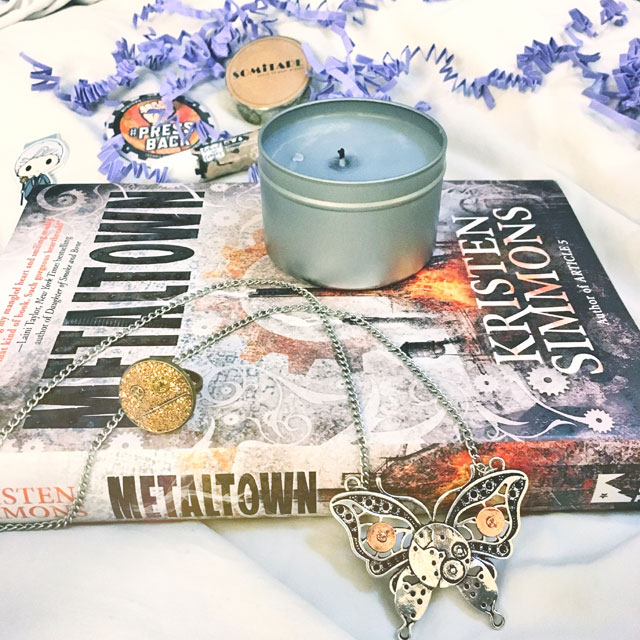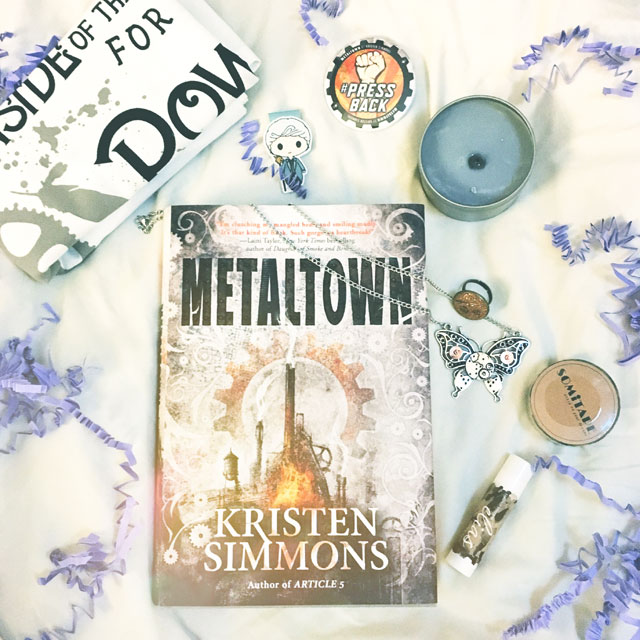 Til at starte med vil jeg gerne sige tak for alle jeres søde kommentarer i sidste uge da vores elskede kat døde. Det var rart at mærke jeres medfølelse. Jeg har ikke kunne svare på kommentarerne enkeltvist – det gør simpelthen for ondt.
Men lad os vende opmærksomheden mod noget mere muntert: oktober måneds Fairy Loot Box ankom i sidste uge, da jeg lå i sengen med feber (fantastisk at have fået barn i institution). Umiddelbart er jeg meget mere begejstret for denne måneds boks end sidste måneds boks, der indeholdt lige lovlig meget bras.
For det første virker månedens bog, Metal Town, meget mere til at være noget for mig end den i sidste måned. Det er en utopisk fortælling om venskab, hårdt arbejde og oprør, og jeg glæder mig til at komme i gang med den.
Ligesom i sidste boks, var der også et duftlys med i oktober. Og denne duft er meget mere i min smag end sidste måneds slik-agtige duftlys. Denne duft er mere hav-agtig og minder lidt om de parfumer, der var populære i mine teenageår – dufte jeg altid vil have en svaghed for. Derudover var der to smykker: en halskæde og en fingerring. Ringen kan jeg virkelig godt lide (orange glimmer!) men ved ikke rigtig, om jeg kommer til at gå med halskæden – jeg har en sommerfugl-halskæde i forvejen som jeg er virkelig glad for.
Derudover er der et fint lille bogmærke, en læbepomade og et viskestykke. Jeg blev simpelthen så begejstret da jeg så viskestykket! Indtil jeg opdagede, at der ikke er nogen strop i. Så det får jeg nok ikke rigtig brugt … Og så er der noget pynte-tape og et badge. Begge ting, der i min optik er i kategorien 'bras'.
Men alt i alt en god boks i oktober. Dog bliver det nok den sidste boks for mit vedkommende i et stykke tid – skal også lige nå at læse de bøger, der følger med. Men jeg vil følge med når emnerne afsløres, så jeg kan bestille boksene enkeltvist, hvis det er et emne, der interesserer mig. Du kan se temaet for november her.