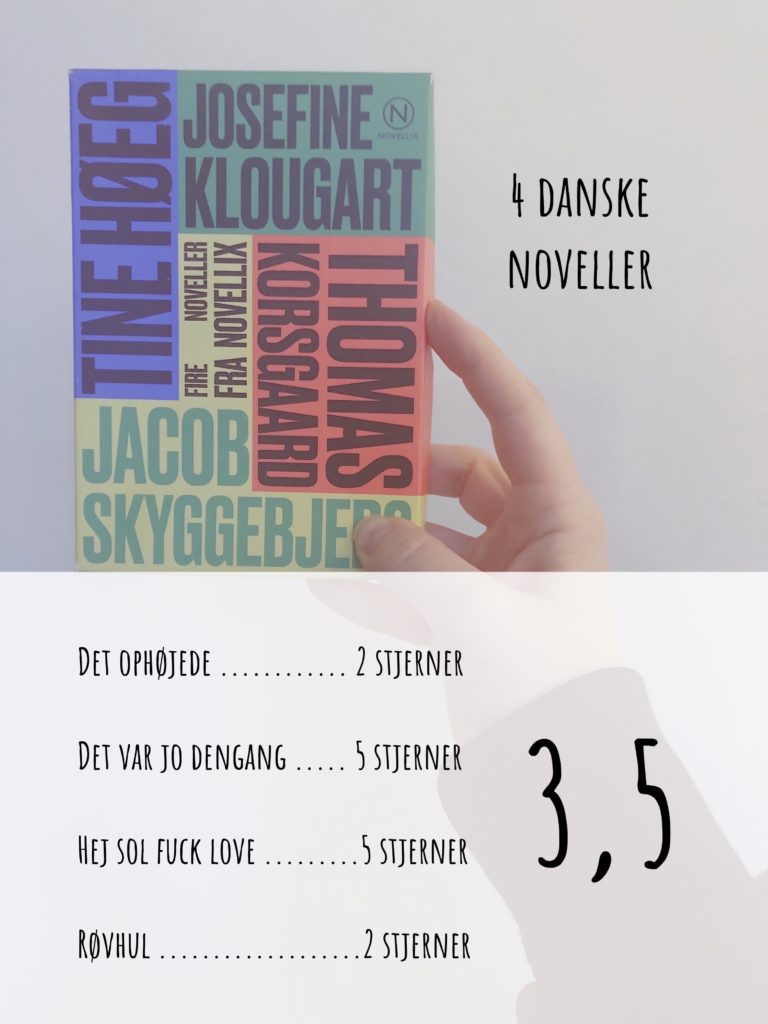 Titel: Fire noveller
Forfattere: Josefine Klougart, Thomas Korsgaard, Tine Høeg & Jacob Skyggebjerg
Sådan blev boksen min: anmeldereksemplar fra Novellix
Denne lille fine boks fra Novellix indeholder noveller fra fire danske, unge og anmelderroste forfattere. Novellerne er meget forskellige; to af dem ELSKEDE jeg, men de to andre brød jeg mig slet ikke om. Så i stedet for en fælles anmeldelse af samlingen, anmelder jeg dem en for en:
'Det ophøjede' af Josefine Klougart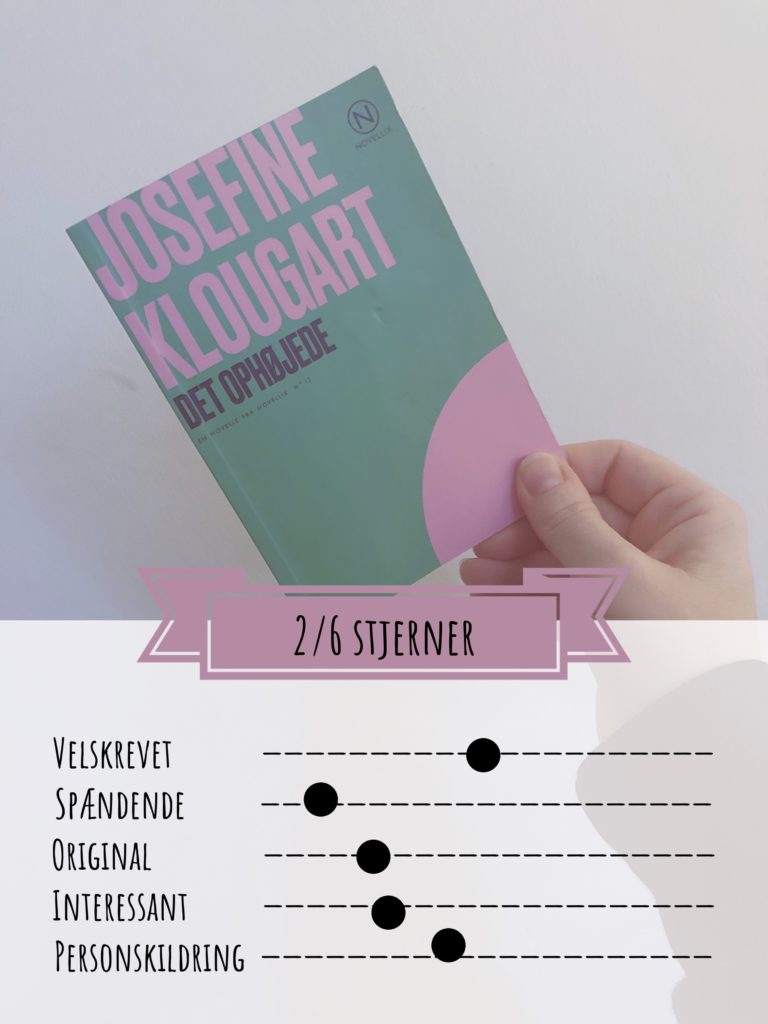 Novellen portrætterer et landsbysamfund i Jylland med fokus på nogle få personer via små glimt.
Det var egentlig fint nok skrevet, men jeg forstod ikke rigtig pointen med novellen og den kedede mig desværre.
'Det var jo dengang' af Thomas Korsgaard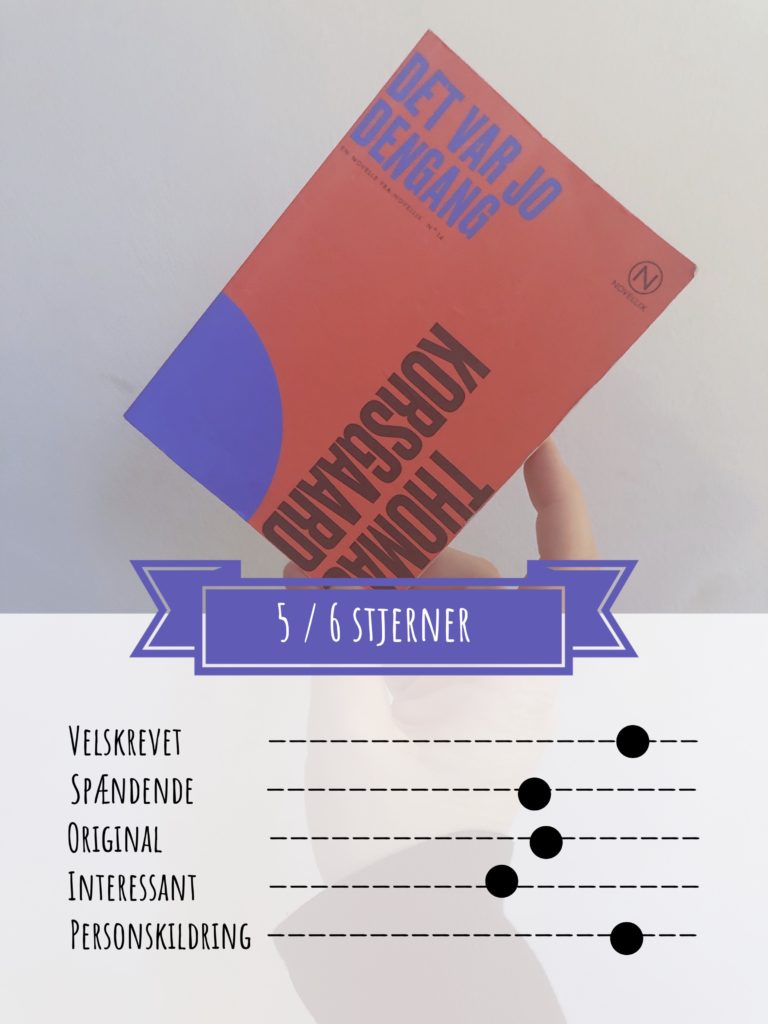 Simon har tømmermænd og er til børnefødselsdag hos sin gamle venindes 3-årige datter med en pose coke i baglommen.
Jeg er helt vild med denne lille humoristiske perle om venskaber, der ændrer sig og forskellige verdner, der mødes og clasher. Thomas Korsgaard kan skrive så man med få detaljer kan se det hele for sig. Det virkede så ægte, at jeg følte, at jeg kunne se plottet udfolde sig i min egen gård. Jeg er fan!
'Hej Sol Fuck Love' af Tine Høeg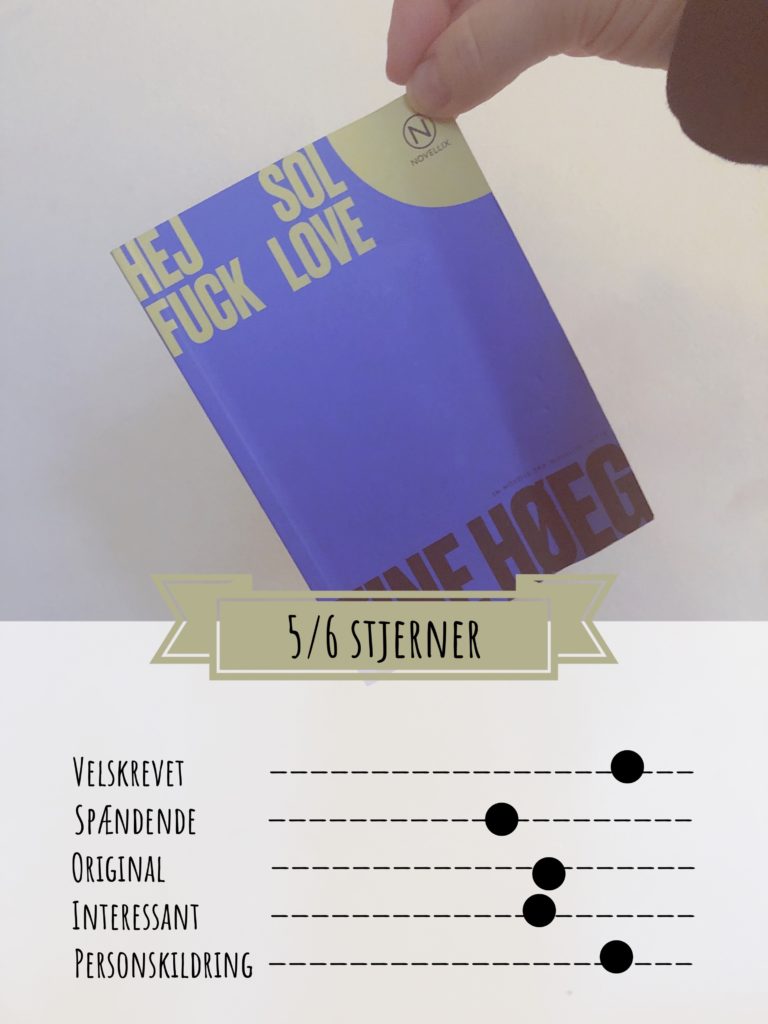 En humoristisk digtnovelle om ulykkelig kærlighed.
Jeg er normalt ikke til digte, så havde ikke så store forventninger til denne lille bog. Men hold nu op, hvor jeg nød den! De små tekstbidder skiftevis stak mig i hjertet og fik mig til at klukke af grin. Novellen er pragtfuld og jeg skal helt sikkert læse mere Tine Høeg – jeg har Tour de chambre liggende og tror jeg skal læse den meget snart. Som i NU!
'Røvhul' af Jacob Skyggebjerg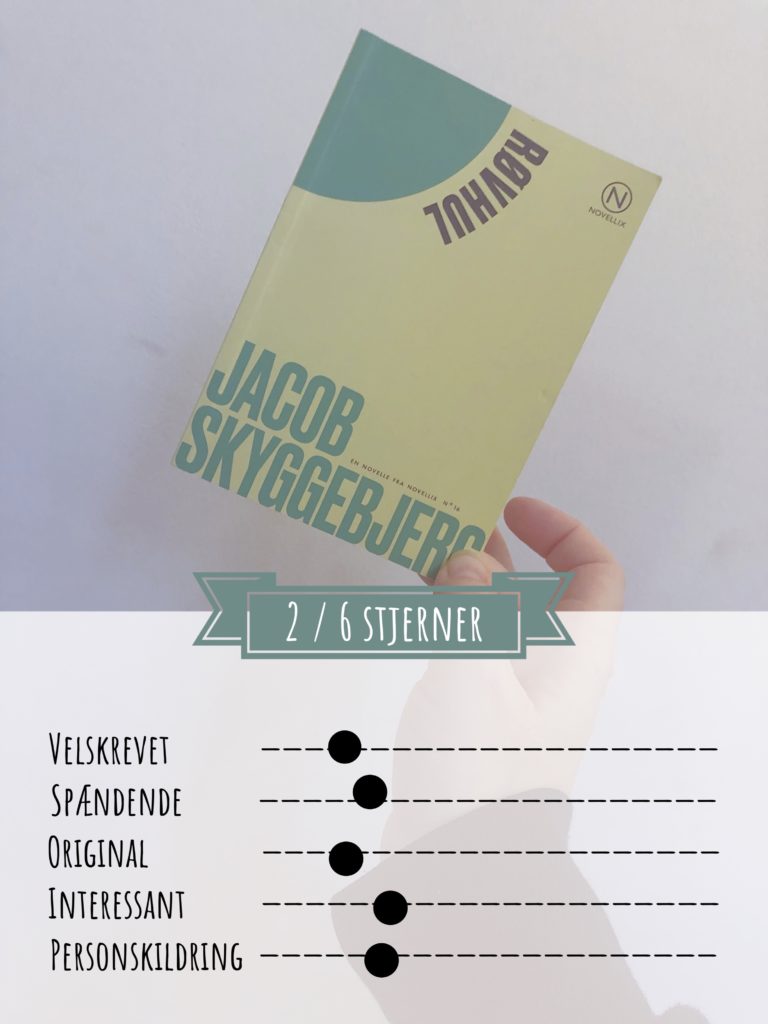 Jorg har fået afslag på at skrive ph.d. Til en kunst-festival møder han en kritiker, hvis kone han har knaldet, som måske kan hjælpe hans karriere.
Ugh. Den her var slet ikke noget for mig. Sproget er knudret og bøvlet, med overforklarende detaljer og fyldt med sætninger jeg snublede over og kom galt ind på. Historien er ikke specielt interessant og bliver desuden kvalt i de mange detaljer. Et kursus i 'show don't tell' ville have være på sin plads.