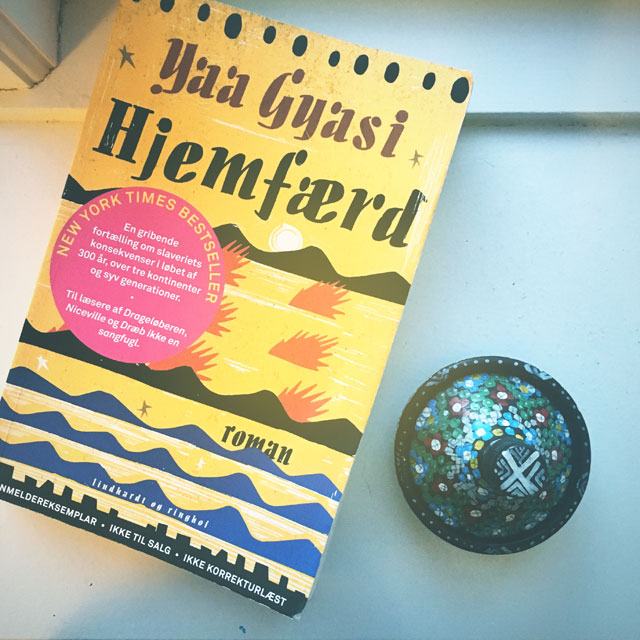 Titel: Hjemfærd
Forfatter: Yaa Gyasi
Først udgivet: 2016
Jeg vil anbefale bogen til: Dig, der elskede The Help (Niceville) – eller dig, der sætter pris på medrivende pageturners.
Sådan starter den: Den nat Effia Otcher blev født i Fantelands moskustrykkende varme, rasede en brand i skoven lige uden for hendes fars klynge af hytter.
4 af 5 stjerner
Anmeldereksemplar fra Lindhardt og Ringhof
'Hjemfærd' er glimt af slaveriets indflydelse på en række individers liv gennem 300 år. Vi starter i 1770'erne med Effia og Esi. De er søstre, skønt de aldrig har mødt hinanden. Vi følger de to familiestammer fra generation til generation frem til nutiden, hvor der atter bindes sløjfe på deres historie. Hver historie er utrolig gribende og medrivende. Man er lynhurtigt inde i personerne tankespind og situation, og ved hver histories slutning var jeg ivrig efter at høre mere.
Historierne berørte alle de klassiske temaer inden for litteratur om race og slaveri: frihed, indentitet, kultur, diskrimination og følelsen af at høre til. 'Hjemfærd' bidrager som sådan ikke med noget nyt til genren, men den genfortæller – omend på en noget overfladisk vis – historier, der fortjener at blive fortalt igen og igen.
'Hjemfærd' er Yaa Gyasis debutroman, men hun er helt klart en forfatter jeg vil holde øje med i fremtiden.