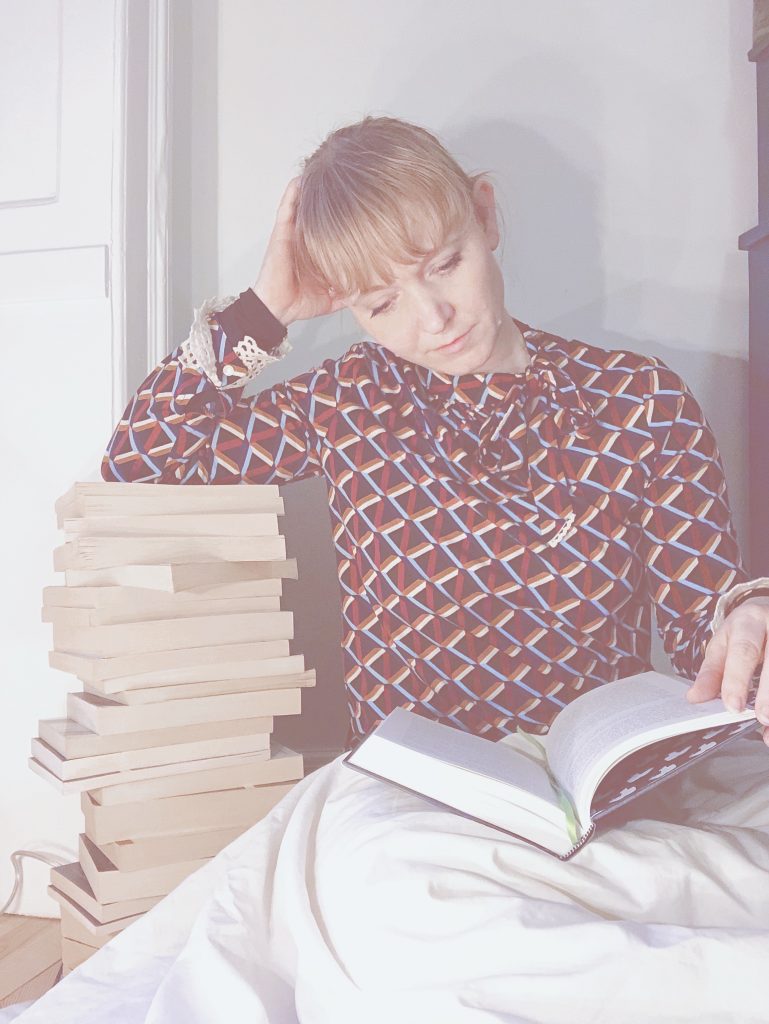 Som jeg har hintet i bogklubbens facebook-gruppe, skal februars fælleslæsning være lidt anderledes: vi skal prøve at læse to bøger, der hænger sammen. Altså ikke som en serie, men mere sådan meta/genfortælling-agtig.
Jeg har to par-læsninger som I kan vælge i mellem:
Mrs. Dalloway & The Hours
Mrs. Daloway af Virginia Woolf
Fra Plusbog: Woolfs berømte roman, der følger en kvindes gøremål og tanker gennem én enkelt dag, er et panorama af håb, erindringer og nederlag – og et af litteraturens fineste storbyportrætter. En sommermorgen i begyndelsen af 1920'erne går Clarissa Dalloway ud i et myldrende London for at købe ind til det selskab, hun vil holde samme aften. Mens vi følger hendes forberedelser, sender den strålende junidag hendes tanker på flugt. Den dag, der slutter med Clarissas aftenselskab, følger vi i en ubrudt strøm af skiftende synsvinkler de tanker, som Clarissa – og hendes omgangskreds – gør sig om livet, som det har formet sig for dem.
Timerne / The Hours af Michael Cunningham
Fra Plusbog: Michael Cunninghams Pulitzerprisvindende TIMERNE skildrer tre dage i tre vidt forskellige kvinders liv. Clarissa Vaughan, forlagsredaktør i 1990'ernes New York, forbereder et selskab for sin ven, digteren Richard, og går en smuk junimorgen ud for at købe blomster. Virginia Woolf er mere end 70 år tidligere i færd med at skrive sin berømte roman Mrs. Dalloway og overvejer forskellige åbninger. I Los Angeles i 1949 er den hjemmegående husmor Laura Brown netop begyndt at læse Mrs. Dalloway, men afbrydes, fordi sønnen Richie og ægtemanden Dan kræver hendes opmærksomhed. Vi følger de tre kvinder i løbet af hver sin dag, og på overraskende vis knyttes deres skæbner sammen.
Frankenstein & Frankissstein
Frankenstein af Mary Shelley
Fra Plusbog: Mary Shelleys klassiske gyser- og science fictionroman fra 1818 i en helt ny oversættelse af Jakob Levinsen. Victor Frankenstein er en ung og ærgerrig videnskabsmand, der drømmer om at skabe sit eget levende væsen – af rester af lig! Han har opdaget, hvordan det kan lade sig gøre og forestiller sig at skabe noget smukt, men sådan går det som bekendt ikke. Han skaber et monster, som han ikke kan holde af, og så går det løs. Monsteret flygter, lever som udstødt og indleder en uhyggelig vendetta for at påkalde sig Frankensteins opmærksomhed.
Frankissstein: a love story af Jeanette Winterson
Fra Goodreads: In Brexit Britain, a young transgender doctor called Ry is falling in love – against their better judgement – with Victor Stein, a celebrated professor leading the public debate around AI.
Meanwhile, Ron Lord, just divorced and living with Mum again, is set to make his fortune launching a new generation of sex dolls for lonely men everywhere.
Across the Atlantic, in Phoenix, Arizona, a cryogenics facility houses dozens of bodies of men and women who are medically and legally dead… but waiting to return to life.
But the scene is set in 1816, when nineteen-year-old Mary Shelley writes a story about creating a non-biological life-form. 'Beware, for I am fearless and therefore powerful.'
What will happen when homo sapiens is no longer the smartest being on the planet? Jeanette Winterson shows us how much closer we are to that future than we realise. Funny and furious, bold and clear-sighted, Frankissstein is a love story about life itself.
Obs: Frankissstein er ikke oversat til dansk!
Jeg er spændt på, hvad I vælger – I kan stemme lige her (senest den 20. december):
Da vi læser to bøger, strækker denne fælleslæsning sig over både februar og marts. Om man vil læse bøgerne en ad gangen eller side om side er op til den enkelte.
Om bogklubben
Bookworm's Bookclub er en online bogklub, som alle kan deltage i. Vi er i skrivende stund 122 medlemmer, og vi snakker om bøger primært i vores facebook-gruppe og på Instagram med #bookwormsbookclubdk. Du kan læse mere om bogklubben HER.