Dyrene vil leve videre som om ingenting er hændt. De kom længe før os, og de vil stadig være her, når vi engang har ædt hinanden.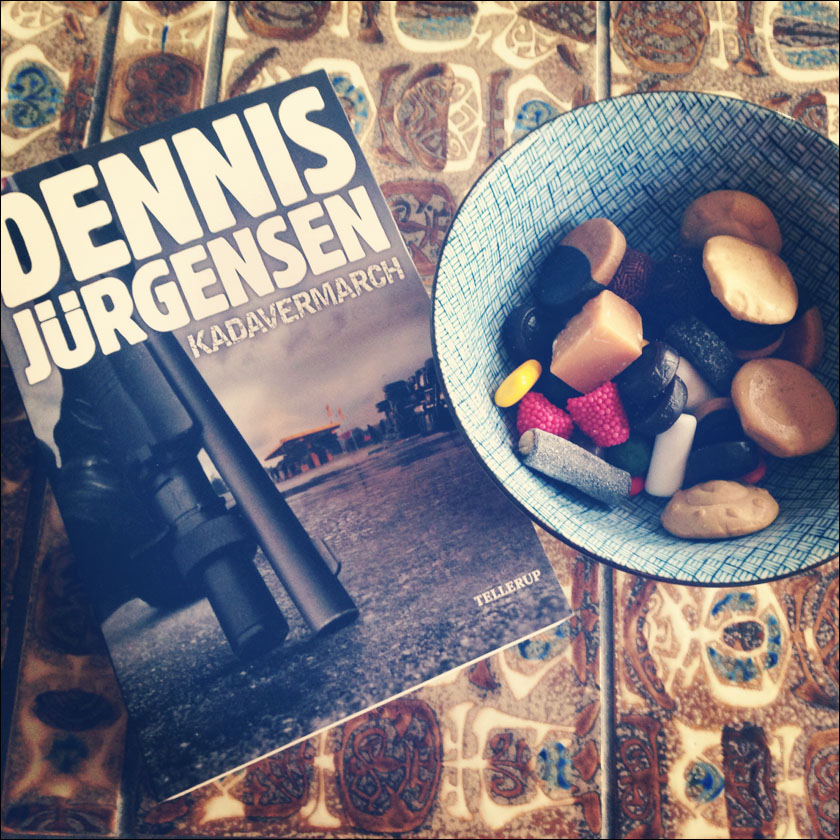 Titel: Kadavermarch
Forfatter: Dennis Jürgensen
Udgivelsesår: 1991
Min bedømmelse: 4 af 5 stjerner
Jeg vil anbefale bogen til: Dig, der kan lide dine gys med en god sjat latter
Sådan starter den: "Jeg ka' ikke li' det," gentog Fritz omme fra bagsædet.
Siden jeg så det første afsnit af The Walking Dead har jeg været bidt af zombier. Der er noget fascinerende over denne form for dommedag: al civilisation forsvinder og menneskets værste sider og måske sande natur kommer frem. De overlevende lever med en konstant skræk, de aldrig kan få fred fra. Vampyrer sover i det mindste om dagen – zombier er der 24/7.
Hvor The Walking Dead er alvorlig, tragisk og uhyggelig, er Kadavermarch grotesk og absurd. Dennis Jürgensens humor er plat og fabelagtig – og dansk når det er bedst. Alene bogens start: Et splatterpunk-rock-band sætter deres liv på spil for at få fat i nogle lakridser:
"I får ti sekunder, så går jeg kraftsejleme selv derind og handler. Jeg er helt syg efter nogle lakridser. Jeg har faneme ikke ædt lakridser i 14 dage."
Dette scenarie kunne ikke andet end at vinde mit hjerte. Jeg faldt pladask for sprogets ligefremme hverdagsfraser. Bogen kunne meget vel være skrevet af en af splatterpunk-rock-bandets medlemmer og det øgede bogens troværdighed på trods af det utroværdige emne.
Kadavermarch er nervepirrende som en god zombie-fortælling skal være. Hvor jeg har det med at skrige højt og spilde te ud over det hele når jeg ser The Walking Dead, blev jeg så forskrækket som man nu kan blive, når man læser en bog. Jeg udbrød højlydt "Åh nej!" flere gange – og det er sjældent en bog kan få mig til det. 4 flotte stjerner til Dennis Jürgensen.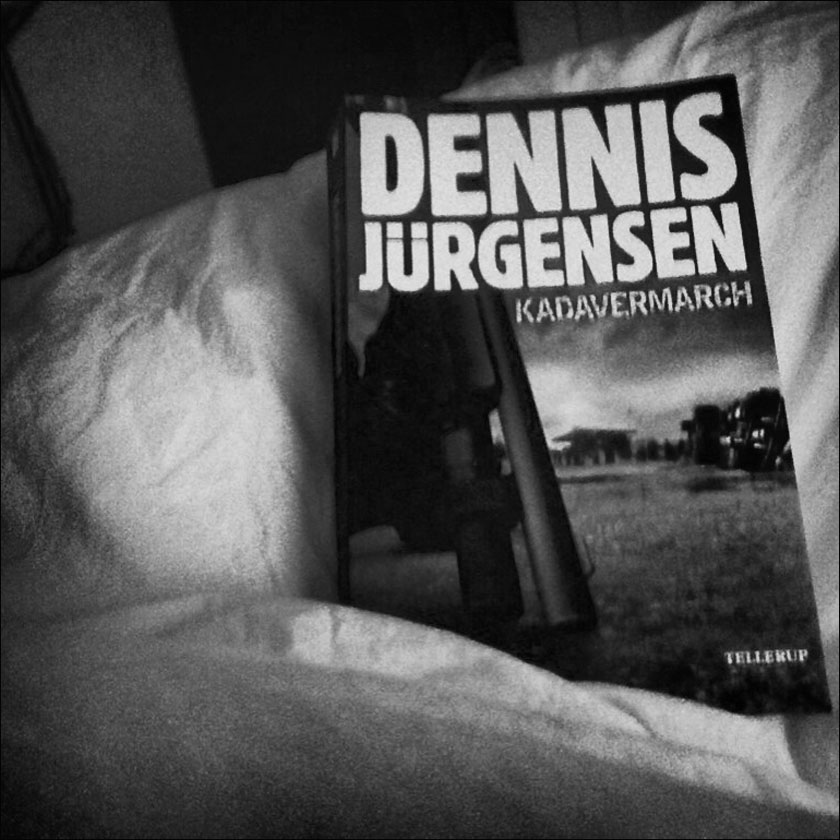 Kadavermarch er en del af min 2014 Reading Challenge og med den kan jeg tjekke to emner af: dansk og dystopia.