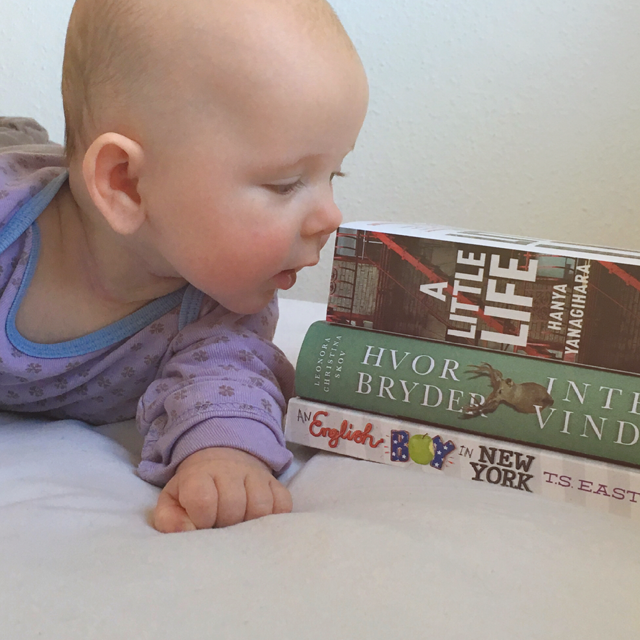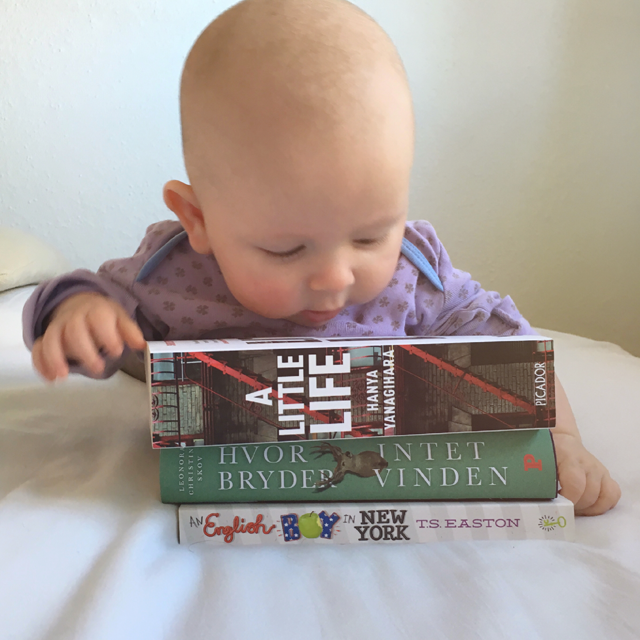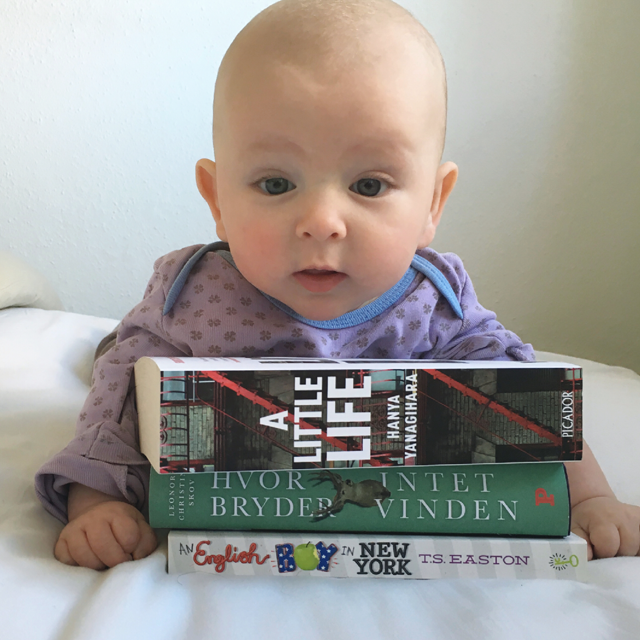 The sunny days have changed my maternity leave drastically. It's much more pleasant going for long walks with Edith. And she has started taking naps outside in her pram, which is brilliant! She gets fresh air and I get a short break. We're going to the cinema every Wednesday and take a baby yoga class every Thursday. That being said, I've started to miss work. The days are long, and I get bored now and then. Edith's naps have been very short lately (about 25 minutes) so it's difficult to get something done, like reading, blogging and knitting – as soon as I get started, she wakes up. And eating takes so much time! I sometimes wish I could just pop a pill instead of actually eating, just to save time 😀 But I really shouldn't complain – Edith is a good girl, and she lets me get my beauty sleep.
In March I read: 3 books: 2 physical books (Hvor Intet Bryder Vinden and 'An English Boy in New York') and 1 audio ('A Little Life').
Best read: Definitely 'A Little Life' by Haya Yanagihara. The characters feel like old friends I will miss after saying goodbye.
Most disappointing read: That would be 'An English Boy in New York'. Though it wasn't bad, it didn't live up to Boys Don't Knit (in public) and was totally unnecessary.
Longest book: 'A Little Life' with its 720 pages (or 32 hours and 51 minutes if you listen to the audio)
Books bought: 0! I've been a good bookworm this month! (Yes, there are books on the way in the post, but that doesn't count as I haven't received them yet)
Next month I'll read: In April, I'll listen to 'North and South' by Elizabeth Gaskell with The Victorians! on Goodreads. And then I'll continue 'The Post Birthday World' on e-book and my reread of 'The Bell Jar' on audio with Mr. Boyfriend.
Next month I'll buy: I really shouldn't buy anything as I'm still short on shelf-space …
How was your March? Did you read any good books? And what do you have planned for April?