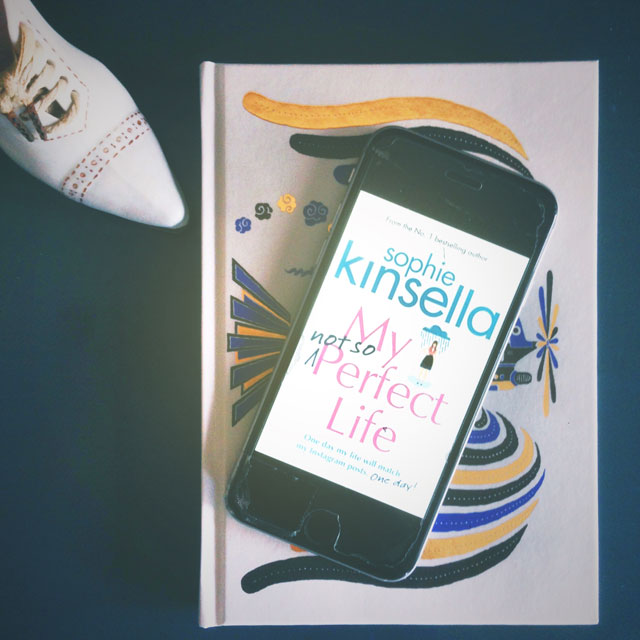 Titel: My not so Perfect Life
Forfatter: Sophie Kinsella
Først udgivet: 2017
Jeg vil anbefale bogen til: Alle, der er til de lette underholdende chick-lits
Sådan starter den: First: it could be worse.
4 af 5 stjerner
En forfriskende og anbefalesværdig chick-lit om ambitioner, karriere og arbejdsliv.
Katie Brenner er flyttet til London for at udleve sin drøm: at få et succesfuldt marketingjob, bo i en fantastisk lejlighed, spise på de bedste restauranter, og drikke drinks med en flok venner. I følge hendes Instagram-profil lever hun det liv. Men i virkeligheden lejer hun et usselt værelse, har utålelige bofæller, må vende hver en krone (eller pund) bruger oceaner af tid hver dag på at blive skubbet rundt i toget for at komme til sit dødsyge arbejde, hvor hendes chef ikke aner hvem hun er. Chefen, Demeter, er kvinden, der har alt: en karriere, perfekt familie, spiser på alle de restauranter Katie kun kan drømme om. Og så er hun hamrende dygtig til sit job. Katie beundrer hende. Lige indtil den dag Demeter fyrer hende. På den mest ubetænksomme måde.
Jeg var positivt overrasket over 'My not so Perfect Life'. Ja, det var let underholdning, men den var på mange måder et friskt pust inden for sin genre. Jeg kunne godt lide, at den handlede om arbejde. Scenerne på arbejdspladsen var virkelig gode. Jeg nød at læse om Katies ambitioner, hendes usikkerhed og de små magtkampe, der udspillede sig på hendes arbejdsplads.
Kærlighedshistorien fyldte forfriskende lidt – den var nærmest smidt ind fra højre som en sidenote. Jeg kunne egentlig godt have undværet den, da den ikke havde så meget med selve plottet at gøre.