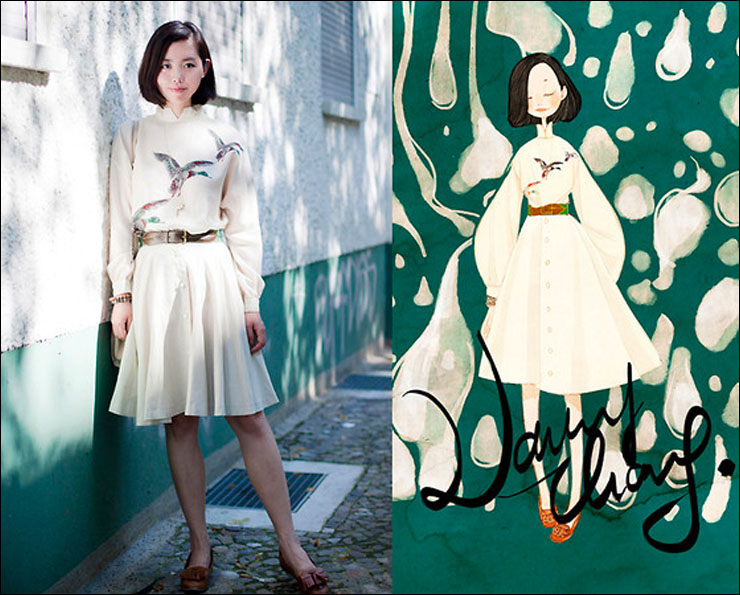 Kan ikke få armene ned over bloggeren Nancy Zhang. Hun er en illustrator og concept art designer fra Berlin, og har et helt unikt koncept på sin blog The Sea of Fertility: Hun sætter et kunstinspireret outfit sammen som hun fotograferer og tegner. Tegningerne er ikke nøjagtig gengivelser af outfittet, men et portræt af stemningen i billedet. På fotoet ovenfor lægger man straks mærke til den flotte og lidt specielle kjole med svaner på, mens hun på tegningen har valgt at fokusere på skyggerne i baggrunden og har overdrevet det lidt sørgmodige smil. Outfittet nedenfor er så fedt med nederdelen og tattoo-strømper og tegningen er så gennemført med vind i skørt og hår – ren livsglæde!
I'm so excited about the blogger Nancy Zhang. She's an illustrator and concept art designer from Berlin, and she's got such a unique concept for her blog The Sea of Fertility: She puts together an art inspired outfit, which she then photographs and draws. The drawings aren't exact reproductions of the outfit, but rather portraits of the atmosphere in the picture. In the photo above, you immediately notice the lovely and quite special dress with the swans, while she's chosen for the drawing to focus on the shadows in the background and has exaggerated the slightly sad smile. The outfit below is so cool with the skirt and tattoo stockings while the drawing depicts the wind in her skirt and hair – and pure happiness!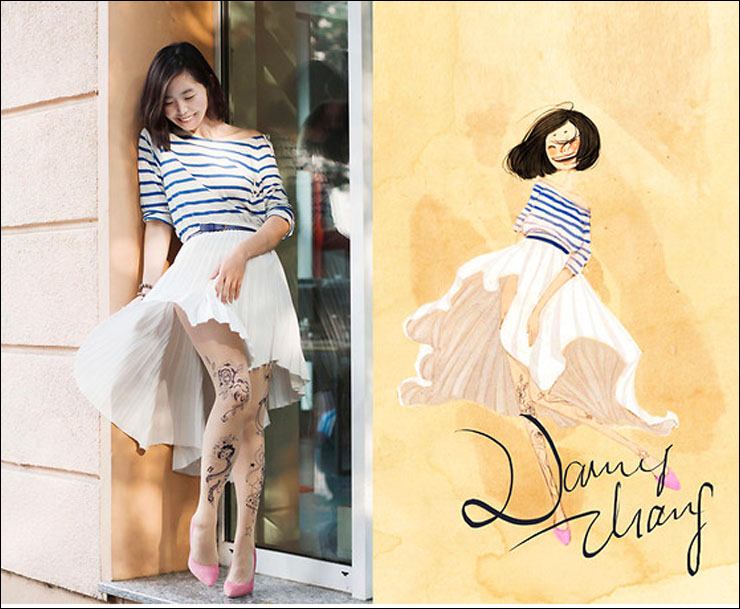 Og så til det sidste billede jeg vil vise jer: cool kjole eller hvad? Og tegningen understreger udtrykket: posh og vintage. Skynd dig forbi hendes blog The Sea of Fertility – har kun vist en brøkdel af hendes billeder.
And the last picture I want to show you: cool dress or what? And the drawing emphasizes the expression: posh and vintage. Make sure you take the time and visit her blog The Sea of Fertility – I've only post a small fraction of her pictures.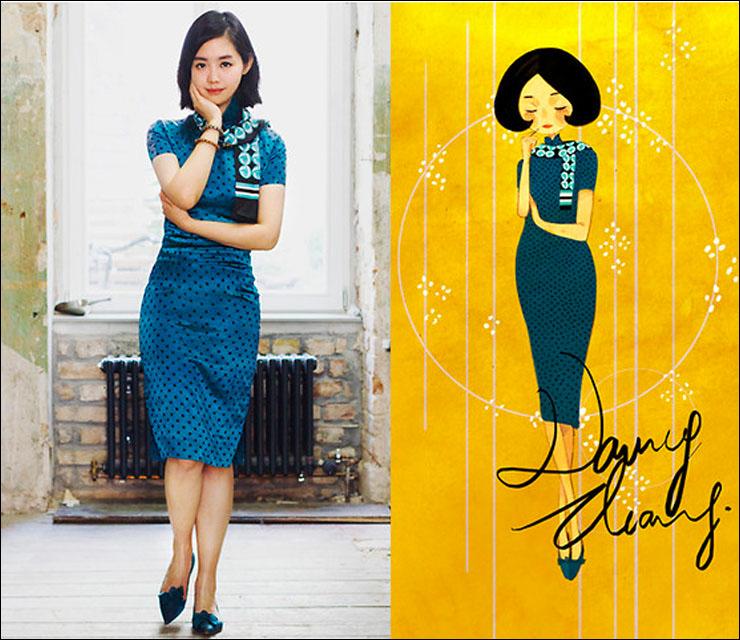 Follow me: Bloglovin * Facebook * Pinterest * Lookbook * Goodreads