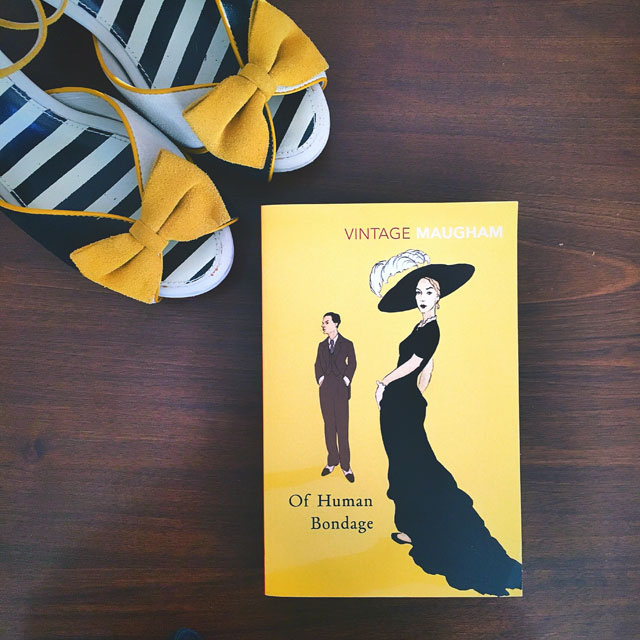 Titel: Of Human Bondage
Forfatter: W. Somerset Maugham
Først udgivet: 1915
Antal sider: 700
Sådan starter den: The day broke grey and dull.
4 af 5 stjerner
En skøn udviklingsroman som jeg var lidt længe om at blive fanget af, men som jeg endte med at knuselske.
'Of Human Bondage' er udviklingsromanen om den forældreløse Philip Carey, der vokser op hos sin onkel, og senere på kostskole, hvor han bliver udsat for en del mobning pga. sin klumpfod. Vi følger ham gennem ungdommen og voksenlivet, gennem hans braste illusioner om kærlighed og karriere.
Til at begynde med var jeg egentlig ikke specielt begejstret. Jeg fandt historien lidt kedelig og kunne slet ikke døje vores hovedperson, Philip. Han var alt for klynkende og ynkelig til min smag. Men så faldt jeg fra tid til anden over en sætning eller to, der virkede så fin og hudløs ærlig, at jeg vidste jeg havde fat i noget her.
Like all weak men he laid an exaggerated stress on not changing one's mind.
Jeg kom et godt stykke ind i romanen og blevet meget grebet af fortællingen om Philip. Og da jeg havde lyttet til den sidste sætning, havde jeg et kæmpe smil plastret i fjæset. Så fin og perfekt.
Insensibly he formed the most delightful habit in the world, the habit of reading: he did not know that thus he was providing himself with a refuge from all the distress of life; he did not know either that he was creating for himself an unreal world which would make the real world of every day a source of bitter disappointment.