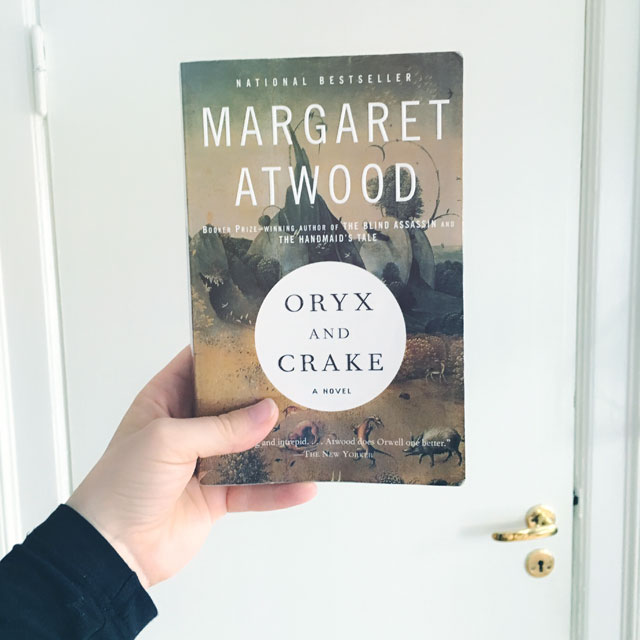 Titel: Oryx and Crake
Forfatter: Margaret Atwood
Først udgivet: 2003
Jeg vil anbefale bogen til: Dig, der vil læse en dyster – men alligevel humoristisk – dystopia. Som er yderst velskrevet.
5 af 5 stjerner
Jimmy, aka Snowman, lader til at være den sidste mand på jorden efter en luftbåren epidemi har udryddet menneskeheden. Ved bogens begyndelse befinder han sig i en yderst depressiv tilstand. Han er underernæret, usoigneret, ensom og på nippet til at blive vanvittig. Hans eneste selskab er nogle sære menneskelignende væsner, som han vejleder og beskytter. Langsomt dykker vi ned i Snowmans historie. Vi hører om dengang han var en dreng, der hed Jimmy, om hans venskab med Crake og kærlighed til Oryx. Vi hører om en bizar fremtid med forskere, der leger gud, en menneskeskabt dommedag, og mærkelige gensplejsede dyr.
"All it takes," said Crake, "is the elimination of one generation. One generation of anything. Beetles, trees, microbes, scientists, speakers of French, whatever. Break the link in time between one generation and the next, and it's game over forever."
'Oryx and Crake' er en spændende historie. Atwood har skabt et fascinerende fremtidsunivers, der ikke er så langt fra vores samfund. Derudover dykker vi ned i karakterne, hører deres historie med en god sjat humor. Især 'the Crakers' (de menneskelignende væsner) fik mig til at grine højt flere gange.
Atwood er en fantastisk historiefortæller. Hendes skrivestil er nemt og ligetil, hendes historier stort set altid underholdende, og hendes karakterer dybe og komplekse. Her er ingen glansbilleder og stort set ingen todimensionelle personer. Det er anden gang jeg læser 'Oryx and Crake'. Nu glæder jeg mig til at TV-serien kommer!
He doesn't know which is worse, a past he can't regain or a present that will destroy him if he looks at it too clearly. Then there's the future. Sheer vertigo.
---
In English
Jimmy, aka Snowman, appears to be the last man on earth after an epidemic has wiped out the human race. At the beginning, we find him in a very depressed state. He is malnourished, unkempt, lonely and on the verge of going mad. His only companions are some strange humanoid creatures whom he guides and protects. Slowly we dive into Snowman's story … read more