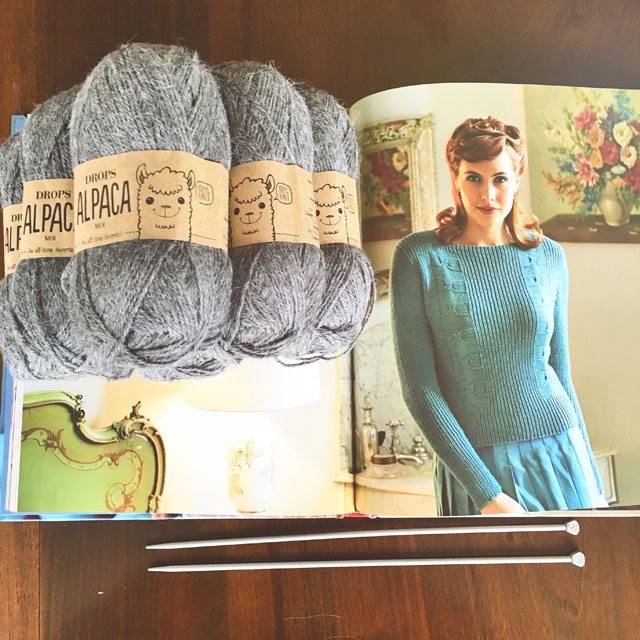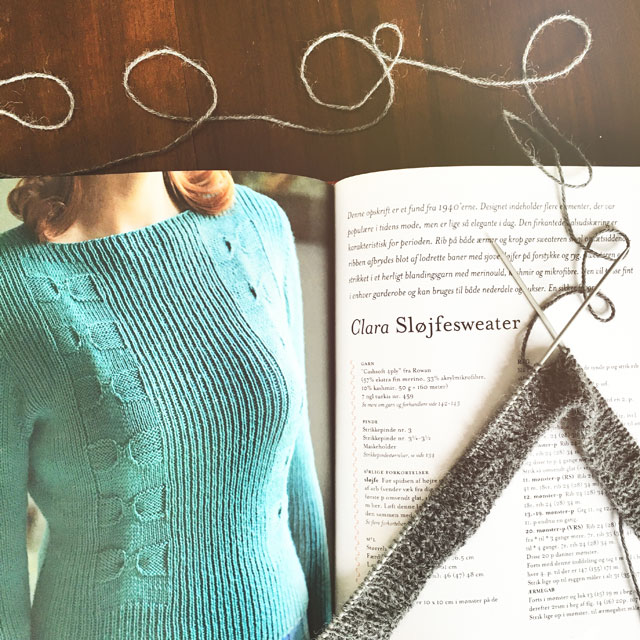 Sidste år fik jeg den skønne strikkebog Glamourstrik i gave af en veninde. Den er fyldt med opskrifter på de fineste vintage trøjer, cardigans etc. De fleste af opskrifterne er reproduktioner fra 30'erne, 40'erne og 50'erne, og hver har deres egen lille historie. Den perfekte opskriftsbog for en vintageelskende strikke-gal bogorm som mig.
Jeg var lige blevet gravid da jeg fik bogen og meget optaget af at strikke babytøj, så Glamourstrik fik ikke rigtig den opmærksomhed den skulle have haft. Men så blev tiden inde til at være mere egoistisk med garnnøglerne. Jeg ville gerne gå igang med det hele på en gang og havde meget svært ved at vælge, hvor jeg skulle starte, men valget faldt til sidst på denne fine sløjfesweater. Den grå farve er lidt atypisk for mig, men jeg har strikket så meget farvestrålende, at min garderobe trænger til noget mere neutralt. Og så tænker jeg, at den lidt rå grå vil stå godt til de feminine sløjfer.
Jeg er nu en god bid inde i rygstykket og er besat! Jeg har lyst til at strikke hele tiden – og ser nogle gange mønsteret for mig når jeg skal sove. Ja, jeg ved godt, at jeg har et problem …
---
English Recap
After knitting a ton of things for Edith, I've started knitting this gorgeous sweater for myself. It's from a book with patterns for vintage knit wear.