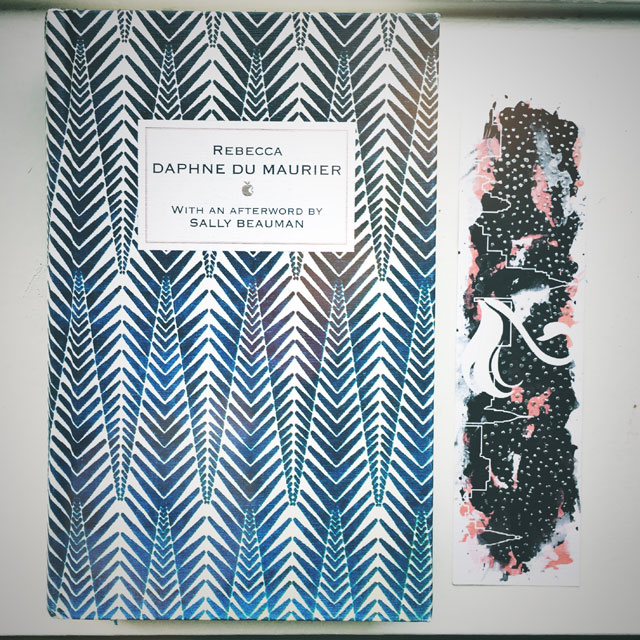 Titel: Rebecca
Forfatter: Daphne Du Maurier
Først udgivet: 1938
Jeg vil anbefale bogen til: Alle, der er til stemningsfulde klassikere med en snert af gys
Sådan starter den: Last night i dreamt I went to Manderley again.
5 af 5 stjerner
Vores heltinde, en ung og naiv pige hvis navn vi aldrig lærer at kende, møder den mystiske Maxim de Winter. Han har for nylig mistet sin smukke og charmerende kone, Rebecca, og virker tillukket og utilnærmelig. Alligevel forelsker vores heltinde sig i ham, og da han frier til hende, tøver hun ikke med at sige ja. Da hun ankommer til hans storslåede hjem, Manderley, træder hun dog ikke stærkt til som den nye Mrs. de Winter. For Rebecca spøger i krogene: det er stadig hendes livretter, der serveres, blomsterne arrangeres på hendes måde, Maxim er fraværende og irritabel, og tjenestefolkene fortæller hvor fantastisk en kvinde Rebecca var.
'Rebecca' er noget af det mest stemningsfulde jeg længe har læst. Den er proppet med gotiske elementer, selvom der intet overnaturligt fremkommer. Plottet er genialt strikket sammen med twists og cliffhangers. En bog hvor man har lyst til at dykke dybe ned mellem linjerne. En historie, der inviterer til at man krøller sig sammen foran pejsen (hvis man altså har sådan en) med en kop te, og bare nyde sproget og mystikken.
If only there could be an invention that bottled up a memory, like scent. And it never faded, and it never got stale. And then, when one wanted it, the bottle could be uncorked, and it would be like living the moment all over again.
Hovedpersonen irriterede mig lidt ind imellem. Hun var en push-over i ordets bedste forstand. Men alligevel blev jeg ved hendes side og tiggede og bad hende om at sige fra heppede på hende.
Det er ikke en bog man hurtigt kan skøjte henover. Den fortjener fordybelse og eftertænksomhed. Det er en bog jeg glæder mig til at genlæse en dag.
I wondered how many people there were in the world who suffered, and continued to suffer, because they could not break out from their own web of shyness and reserve, and in their blindness and folly built up a great distorted wall in front of them that hid the truth.