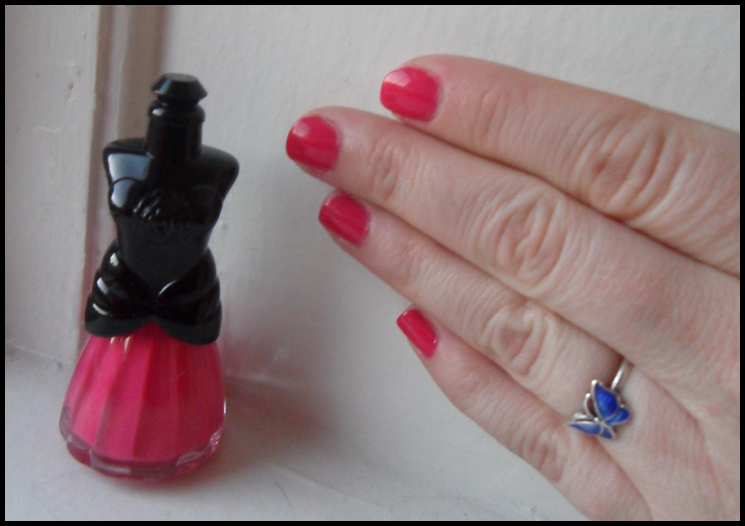 Købte denne neglelak i Tokyo. Faldt pladask for, at den er formet som en kjole! Farven er som den skal være og dækker ordentligt efter to lag. Der var dog en ting, der generede mig med det samme. For at den ikke skal lugte som traditionel neglelak, er der kommet parfume i. En meget kvalm og sød lugt som bliver hængende i neglene i op til et halvt døgn efter – selvom man vasker hænder igen og igen.
Normalt når jeg bruger 2 lag neglelak + top og base coat holder det ca. 2 døgn, hvorefter jeg kan lappe lidt på det så det holder op til 5 døgn i alt. Anna Sui neglelakken begyndte at skalle af efter 1 1/2 døgn og det var så slemt, at den ikke kunne lappes.
Så det er nok ikke en neglelak jeg vil bruge så tit – men den er flot og sjov at have stående.
I bought this nail polish in Tokyo. I completely fell for the dress-shape! The coulour is nice after two coats. There was one thing that bothered me right away, though. To avoid the usual smell of nail polish, perfume has been added. A very sweet and nauseating smell that stays for up to 12 hours – even if you wash your hands repeatedly.
I usually use two coats of nail polish + top and base coat which lasts for about 2 days. I can then mend it so it lasts up to 5 days. The Anna Sui nail polish started to peel after 1 1/2 day and it was so bad that it couldn't be mended.
This will probably not be a nail polish I'll use that often – but it is pretty on the dresser.