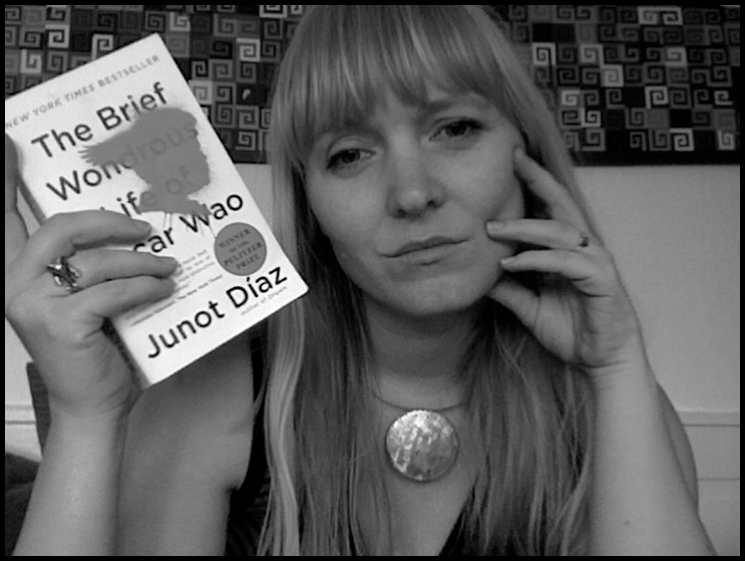 The Brief Wondrous Life of Oscar Wao by Junot Díaz
My rating: 3 of 5 stars
Denne historie handler om Oscar, en overvægtig sci-fi nørd med et stort hjerte. For mig lød det som en vidunderlig og anderledes bog. Og den var anderledes, men bestemt ikke vidunderlig.
Jeg kunne virkelig godt lide Oscars historie og jeg nød hans selskab. Men alle sidehistorierne drev mig til vanvid! De var bare ikke særlig interessante od de var meget dominerende. Jeg tror ikke engang halvdelen af bogen handlede om Oscar – eller også føltes det bare sådan.
En ting, der var meget irriterende, var alle de spanske sætninger. Hvad i alverden skal jeg stille op med det? Jeg har aldrig haft spansk. SÅ irriterende.
Og en ting til: Hvad sker der med alle fodnoterne??? Jeg hader når forfattere gør den slags. Jeg begyndte at springe dem over efter et par sider. Ved ikke, om jeg gik glip af noget og er faktisk også ligeglad.
Der kommer ikke til at være noget "Dres for the book" denne gang – har ikke lige noget tøj, der passer til en overvægtig sci-fi-gut.

This story is about Oscar, an overweight sci-fi geek with a big heart. It sounded to me like a wonderful and different novel. And it was different, but unfortunately not at all wonderful.
I really enjoyed the story about Oscar. I loved his company! But all the side stories drove me nuts! They just weren't that interesting and they dominated the entire book. I don't think even half of the pages were devoted to Oscar – or maybe it just felt that way.
A thing I found very annoying was all the Spanish phrases. What am I supposed to do with that??? I don't understand a word of Spanish. SO annoying.
And one more thing: What's with the footnotes??? I hate it when authors do that. I skipped them after the first few pages. Don't know if I missed anything important, and I don't really care.
There won't be any "Dres for the book" this time – I don't have any clothes matching an overweight sci-fi dude.