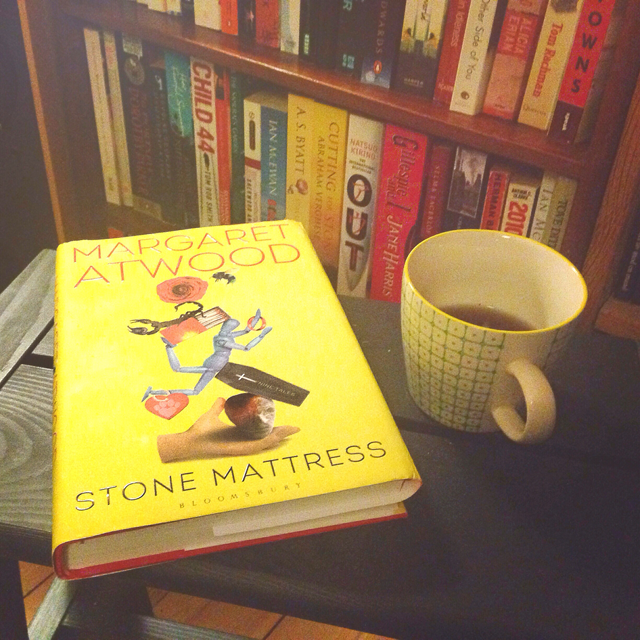 Last week I had a huge disappointment. Mashable had invited me to a Google Hangout with Margaret Atwood. I was so excited and scared and honored, I almost couldn't contain it. This is my favorite author we're talking about and I would get to ask her question!
The day finally arrived and I got ready in front of my computer with a cup of tea and her new book. We logged in, chatted a bit and then Atwood arrived. I was a teeny bit star-struck! I was the third to ask her a question. In the middle of her answer to the second question, the technique bailed on us. Something happened to the sound and it started looping! They tried fixing it, but there was nothing they could do so they had to cancel the whole thing! I was almost paralyzed with disappointment. I had been looking so much forward to this, it's almost unbearable. It's been a week now, and I'm still not over it. It may not sound like a big deal, but to me it's a very big deal.
I did, however, get a few moments with Atwood. When the sound failed, we just sat there waiting without being able to talk over the noise. One of my cats jumped up to sit on my lap. When I discretely removed him, I could see Atwood pointing and laughing. She then held up a large bag with a print saying something like: "Human problems only cats understand". It may not sound like much, but these are memories I'll probably treasure forever. Imagine how I'd felt if I'd actually talked to her. She seemed so cool! She also held up some stickers saying "WTF" and "Fail". She made me laugh.
The people at Mashable said they'd try to reschedule, but I'm not holding my breath *sigh*
BTW, Today is Margaret Atwood's 75th birthday – happy birthday Atwood!