For what am I, she wonders, but a product of my own imagination?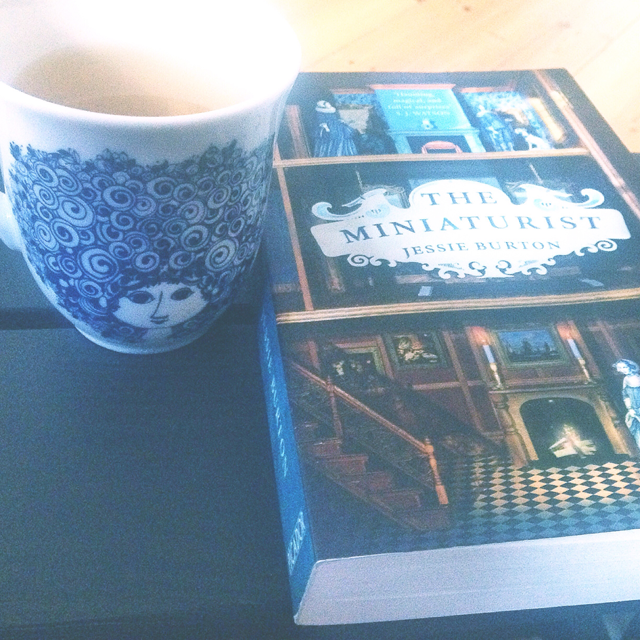 Title: The Miniaturist
Author: Jessie Burton
First Published: 2014
My Rating: 3 of 5 stars (average rating on Goodreads: 3.58)
The Beginning: The funeral is supposed to be a quiet affair, for the deceased has no friends.
Amsterdam, 1686: Nella Oortman enters a new life with a husband she hardly knows and a hostile household full of secrets. Her wedding present is a miniature version of their home. As the secrets of the household slowly unfold, Nella's miniature home is furnished by an unknown miniaturist who somehow know all the secrets Nella is yet to unveil; secrets that society would never forgive if they came into light. It's a story about personal freedom, about being different in a society that does not allow diversity.
This was a great idea for a novel. A classic setting with modern twists. The Miniaturist is perfect entertainment; you're in good company throughout the novel. It's one of those 'forget-about-the-world-reads' we all need to treat ourselves to. I found it refreshing that there was no love story in the novel. It surprised me, as it would seem like the type of novel that would have a love interest for the main character. I liked that as you don't see that often. It allowed the focus to stay on the subject matter of personal freedom.
That being said, the novel has many flaws.
The idea of the miniature replica seems wasted on this story. It was an element that made the story unique and what drew my attention to the novel in the first place. But it only played a minor role in story, and that part was nothing special. In fact, it was never even properly explained. I felt a bit cheated as the title of the novel and the cover of the book suggested otherwise.
In showing me my own story, she thinks, the miniaturist has become the author of it herself. How I wish I could have it back.
The characters were to me unbelievable and their actions seemed forced – merely tools to take the plot certain places. Here I think in particular of the sister-in-law, Marin. Her hostility made absolutely no sense to me. It was her idea that the marriage took place in order to cover up their secrets, and then she resents the result. Why? Any sane person would make the new wife feel welcome to ensure that she wouldn't spill the beans. I can't help thinking that Jessie Burton did this to make the household more mysterious and thereby the plot more interesting. This annoyed me a bit – I don't like it when characters act a certain way in order to enhance the story, it makes them seem less 'real'.
This is not a conversation, it is Agnes sending out darts and watching them pierce.
Jessie Burton is no doubt talented, but she seems to me like an inexperienced writer who should have practiced more before publishing. It's a shame, because the novel is full of great ideas and creativity. And she writes very well, though the novel should have been proofread an extra time. At one point, the character Johannes was spelled Johanne. In Danish that changes the name from male to female. That's a bit distracting.
That being said, let me repeat that The Miniaturist is great for entertainment. But don't expect to be blown away by the story.