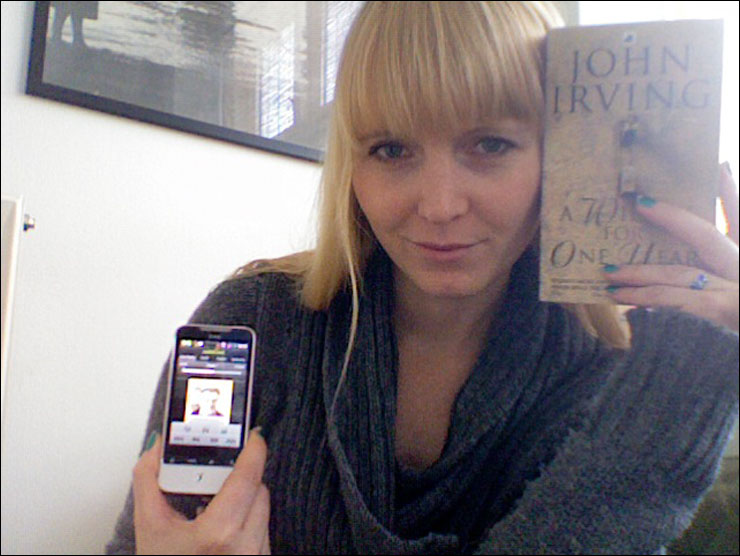 A Widow For One Year by John Irving
My rating: 4 of 5 stars
Jeg kom lidt skævt ind på denne bog. Jeg så fimen – som er baseret på den første del af bogen – år tilbage og kunne rigtig godt lide den. Men jeg tror, at jeg kunne huske detaljer fra historien for tydeligt … Og selvom jeg nød historien og karakterene, virkede bogen lidt langtrukken. Og jeg kom i tanker om, at jeg før har haft det sådan med John Irvings romaner: jeg elsker historierne men synes at de er en anelse langtrukne. Så jeg besluttede mig for at droppe papir-udgaven og købte den som lydbog i stedet. Og det ændrede sagen! Jeg tror, at John Irving bare er en forfatter, hvis værker jeg foretrækker i lydversion (og sådan har jeg det i øvrigt også med Haruki Murakami). Måske man skulle overveje Whispersync for Voice næste gang jeg skal læse en ny Irving-roman …
Men tilbage til historien: Kort fortalt handler den om Ruth, en forfatter, hvis liv er påvirket af hendes ulykkelige familie og en stor tragedie, den samme familie og samme tragedie, der er med til at forme Eddies liv og seksualitet. Det er svært at beskrive historien – lige så svært som at beskrive et liv. Og det er det romanen gør: den beskriver Ruths (og delvist også Eddies) liv, hendes lidenskaber og hendes forhold til andre mennesker.
Jeg var egentlig ikke så begejstret for Eddies historie, men jeg var helt vild med Ruth, hendes venner, hendes fortælling og stort set alt ved hende. Og var helt vild med beskrivelserne af hendes romaner – ville næsten hellere læse dem 😉
Min sweater er et nyere genbrugs-fund fra Røde Kors på Nørrebrogade.
I got off on a bad start with this book. I'd seen the movie – which is based on the first part of the book – years ago and really liked it. But I think that I remembered the details of the story too well… And though I enjoyed it and the characters, it seemed a bit slow. I remembered that I've felt that way before about John Irving's novels: I'd love the stories but the writing dragged a bit… So I decided to give up reading the paperback and bought it on audio instead. And that changed everything! I guess to me, John Irving is an author whose novels I prefer as audio books. (Another author I feel this way about is Haruki Murakami). Maybe I should consider Whispersync for Voice the next time I decide to read a John Irving novel …
But back to the story: In short, the book is about Ruth, a novelist whose life is marked by her unhappy family and a great tragedy, the same family and tragedy that marks and shapes Eddie's life and sexuality. It's difficult to describe the story – just as difficult as it is to describe a life. And that's just what the novel does: It describes Ruth (and in part Eddie's) life, her passions and her relationships with other people.
I actually didn't care much about Eddie's story, but Ruth stole my heart! I loved her, her friends, her story and almost everything about her. And the descriptions of her novels made me long to read them! Almost more than I longed to read this novel 😉
The sweater is a new second hand purchase from Røde Kors at Nørrebrogade.


Follow me: Bloglovin * Facebook * Pinterest * Lookbook * Goodreads