I'm never sure what I'm going to be, from one minute to another!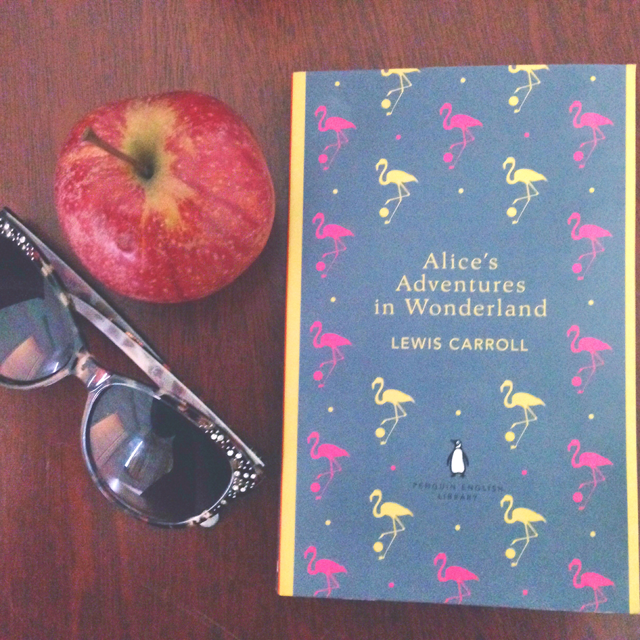 Title: Alice's Adventures in Wonderland & Through the Looking Glass
Author: Lewis Carroll
First Published: 1871
My Rating: 3 of 5 stars (average rating on Goodreads: 4.05)
The Beginning: Alice was beginning to get very tired of sitting by her sister on the bank and of having nothing to do: once or twice she had peeped into the book her sister was reading, but it had no pictures or conversations in it, "and what is the use of a book," thought Alice, "without pictures or conversations?"
Alice's Adventures in Wonderland is a story I've always avoided because of its claustrophobic atmosphere and weirdness. I think I was a bit scared of it as a child. But I decided that I was finally old enough to jump down the rabbit hole.
Reading the book was a fun and crazy experience. I enjoyed Alice, how she kept changing and developing, and her reactions to what was happening to her were delightful to read about. She's a child on the verge of changing, she played with the thought of growing up was thrown into a universe in constant development. It was exciting to see her reactions to these extreme changes within minutes.
Was I the same when I got up this morning? I almost think I can remember feeling a little different. But if I'm not the same, the next question is "Who in the world am I?"
I adored the writing and Alice's inner dialogues. Lewis Carroll captured brilliantly the voice of a young girl playing with identity and learning. And it's hard not to be fascinated by the creativity of Wonderland. The idea of Through the Looking Glass where Alice enters a world of opposites was utterly amusing. I wish that there had been more about this part, though.
What I didn't enjoy so much about the book, was the random crazy events. After the story has suddenly changed 5 times within 20 pages, I had had quite enough. I don't like it when random things happen for no reason at all and with no closure whatsoever. I guess I'm too old for the kind of changes Alice went through.