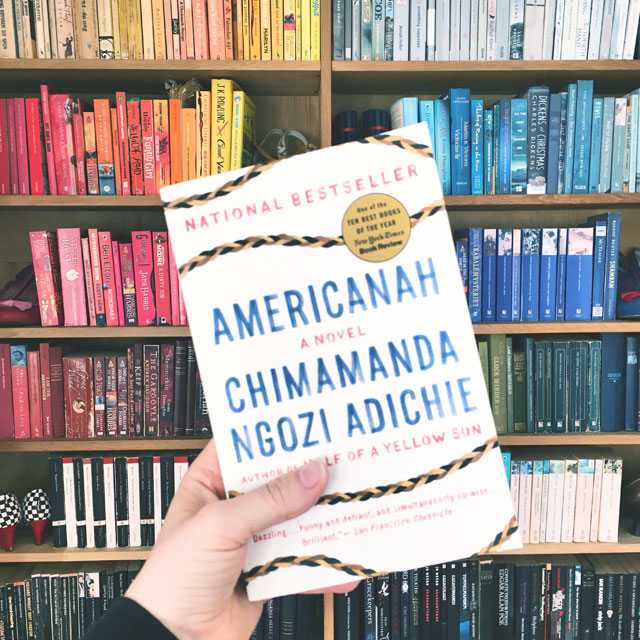 Titel: Americanah
Forfatter: Chimamanda Ngozi Adichie
Først udgivet: 2013
Jeg vil anbefale bogen til: Alle!
4 af 5 stjerner
Vi er i Nigeria. Ifemelu og Obinze er 'high school sweethearts'. Begge er intelligente og ambitiøse, og drømmer om at få bedre uddannelse og karriere end Nigeria kan tilbyde. Ifemelu får chancen for at komme til USA, og planen er, at hun tager afsted og venter på Obinze. Her bliver hun konfronteret med det at være sort – noget hun aldrig har tænkt over før. Den Amerikanske Drøm smuldrer gradvist for til sidst at kollapse fuldstændigt med katastrofale følger for hendes forhold med Obinze, der herefter tager til London for at prøve lykken. 15 år senere mødes de i Nigeria.
'Americanah' er fortalt med skiftende synsvinkler, den springer i tid og sted – uden at det var forvirrende. Derudover læser vi Ifemelus blogindlæg om af være sort i USA, hvilket var meget tankevækkende, humoristisk og velskrevet.
The only reason you say that race was not an issue is because you wish it was not. We all wish it was not. But it's a lie. I came from a country where race was not an issue; I did not think of myself as black and I only became black when I came to America.
Et af de store emner i romanen er race og identitet. Til at starte med forsøger Ifemelu ihærdigt at blive amerikansk. Hun nærmest drages mod den livsstil, og ændrer sin accent og kopierer amerikaneres slang. Hun oplever, at det er lettere at blive accepteret, hvis hun efterligner amerikanerne. Senere eksperimenterer hun med at lægge amerikaniseringen fra sig, og beskriver reaktionerne med stor humor.
'Americanah' er en skøn og velskrevet roman om identitet, race, karriere og kærlighed som jeg kan anbefale til stort set alle. Det er sådan en bog jeg hele tiden havde lyst til at læse videre i. Historien var gribende og persongalleriet fornøjeligt. Det er nu efterhånden en måneds tid siden jeg blev færdig med bogen, og jeg savner den ind imellem.
Racism should never have happened and so you don't get a cookie for reducing it.
---
In English:
We are in Nigeria. Ifemelu and Obinze are 'high school sweethearts'. Both are intelligent and ambitious, and dream of getting a better education and career than Nigeria can offer. Ifemelu gets the chance to go to the United States, and the plan is that she will wait for Obinze. Here she is confronted with being black – something she never thought about before. The American Dream is crumbling gradually until it finally collapses with disastrous consequences for her relationship with Obinze, who then goes to London. 15 years later, they meet in Nigeria … read more.