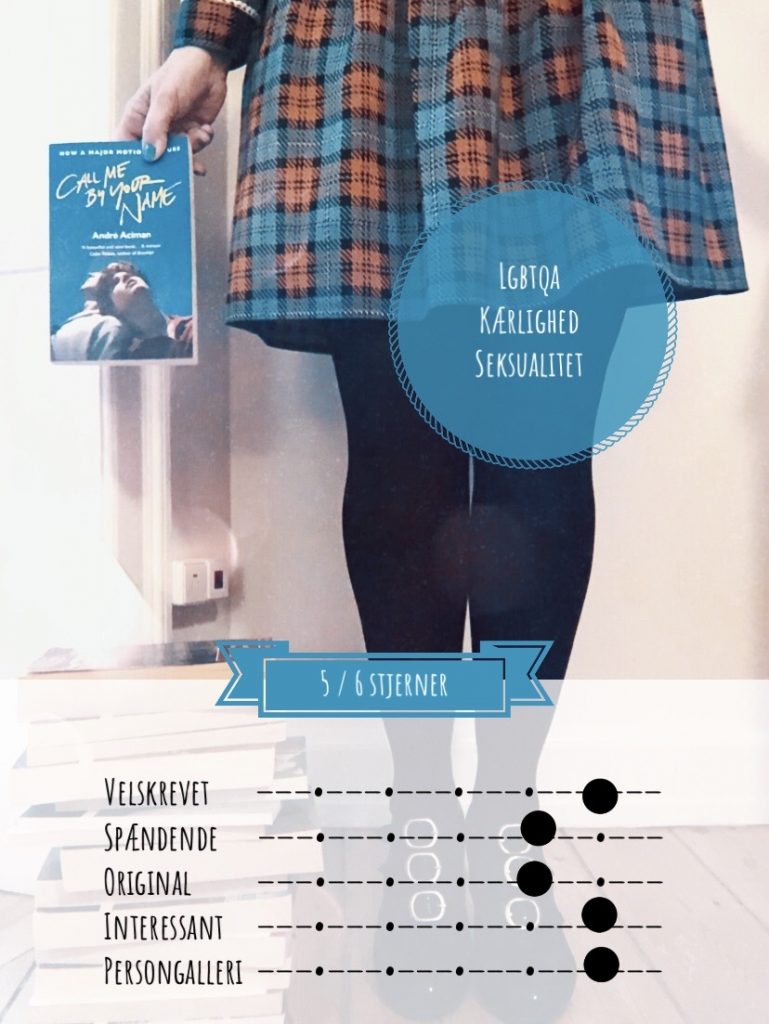 Titel: Call me by your name (læst på engelsk, men er oversat til dansk)
Forfatter: André Aciman
Sådan blev bogen min: jeg har købt den
En smuk og bittersød coming of age-historie om kærlighed og seksualitet.
I Italiens stegende hede fascineres den 17-årige Elio af den 7 år ældre husgæst, Oliver. I løbet af få uger udvikler fascinationen sig til overvældende og altopslugende kærlighed og begær. Deres intense og umulige forhold beskrives med hårrejsende, tåkrummende og smuk ærlighed.
It never occurred to me that if one word from him could make me so happy, another could just as easily crush me, that if I didn't want to be unhappy, I should learn to beware of such small joys as well.
Call me by your name er en af de mest modige og ærlige fortællinger jeg nogensinde har læst. Elios forvirring og accept af sin biseksualitet, hans vekslen mellem begær og afsky er formidabelt beskrevet.
Udover at være en intens kærlighedshistorie, er Call me by your name også en smuk 'coming of age'-historie: Elios udvikler sig fra dreng til mand med al den smerte og følelse det indebærer. Det er i høj grad en historie om at tillade sig at føle, at elske, at leve.
We rip out so much of ourselves to be cured of things faster than we should that we go bankrupt by the age of thirty and have less to offer each time we start with someone new. But to feel nothing so as not to feel anything – what a waste!
Uden at afsløre for meget, er jeg nødt til at sige, at det er en af de bøger, der har rørt mig mest i meget lang tid. Men det er på en anden måde end bøger med bitter-søde slutninger normalt rører mig. 'Normalt' når jeg får mit stakkels hjerte knust i en bog, tudbrøler jeg imens jeg læser, er trist bagefter og kommer så langsomt ovenpå igen. Her er det omvendt: jeg havde kun lidt tårer i øjnene imens jeg læste slutningen, men i dagene (ugerne faktisk) bagefter tænkte jeg meget på den og det er som om klumpen i halsen vokser for hver gang og det gør mere og mere ondt at tænke på historien. Det gør så ondt, at jeg næsten ikke tør se filmen – selvom den er lige her på Netflix.
He came. He left. Nothing else had changed. I had not changed. The world hadn't changed. Yet nothing would be the same. All that remains is dreammaking and strange remembrance.
Call me by your name er en livsbekræftende læseoplevelse fyldt med humor, visdom og tåkrummende sexscener. Og så har den en fabelagtig opkast-scene. Det er ikke alle bøger, der kan prale med det.
Bonus-info: der er lige kommet en fortsættelse: Find mig som jeg glæder mig til at læse (reklame: jeg har modtaget fortsættelsen som anmeldereksemplar)