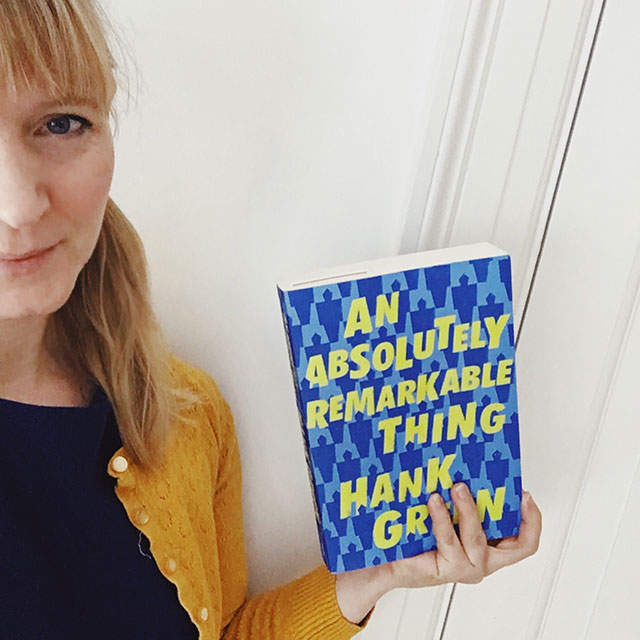 Titel: Et fuldstændig fantastisk fænomen (oversat fra: An absolutely remarkable thing)
Forfatter: Hank Green (John Greens bror – altså ham der fik os til at tudbrøle over En flænge i himlen)
Sådan blev bogen min: jeg fik den i julegave
En fuldstændig vanvittig bog, hvor alt kan ske.
Det er lidt svært at beskrive Et fuldstændig fantastisk fænomen. Men lad mig prøve: den handler om sociale medier, pludselig berømmelse og om forhold mellem mennesker … og om robotter og rumvæsner. Men uden at være sådan rigtig sci-fi.
April May opdager en stor statue, der er dukket op ud af det blå. Hun ringer til sin ven Andy, og sammen optager de en video og smider den på Youtube. Dagen efter er de berømte og en del af et fuldstændig fantastisk verdensomspændende fænomen.
Jeg var vild med personerne i romanen: de var komplekse og vi fik lov til at se alle deres fejl og mindre flatterende sider. De var forfriskende ægte og humoristisk fremstillet. Især Andy, vores hovedpersons sidekick var fænomenal.
Bogen handler meget om sociale medier, og jeg var bange for at den ville være fordømmende og manifestere SoMe som noget rigitg slemt noget (det er jo så populært for tiden at bebrejde SoMe og Smartphones for alt). Det gjorde den heldigvis ikke. Jo, den fremstillede nogle ubehagelige ting ved SoMe, men hovedsageligt var det en positiv og mere realistisk fremstilling. Thumbs up, Hank Green!
Behold the field in which I grow my fucks. Lay thine eyes upon it and see that it is barren.
Det var en vanvittig læseoplevelse, hvor man havde den følelse, at alt kan ske. Når som helst. Det var sjovt. Og anderledes. Desværre var bogen lidt for lang og jeg kedede mig af og til i den sidste halvdel. Men det er en bog jeg tænker varmt tilbage på, og siden jeg vendte den sidste side har den sneget sig fra 3 stjerner (som jeg oprindelig gav den på Goodreads) til 4 stjerner (som den får i denne anmeldelse).