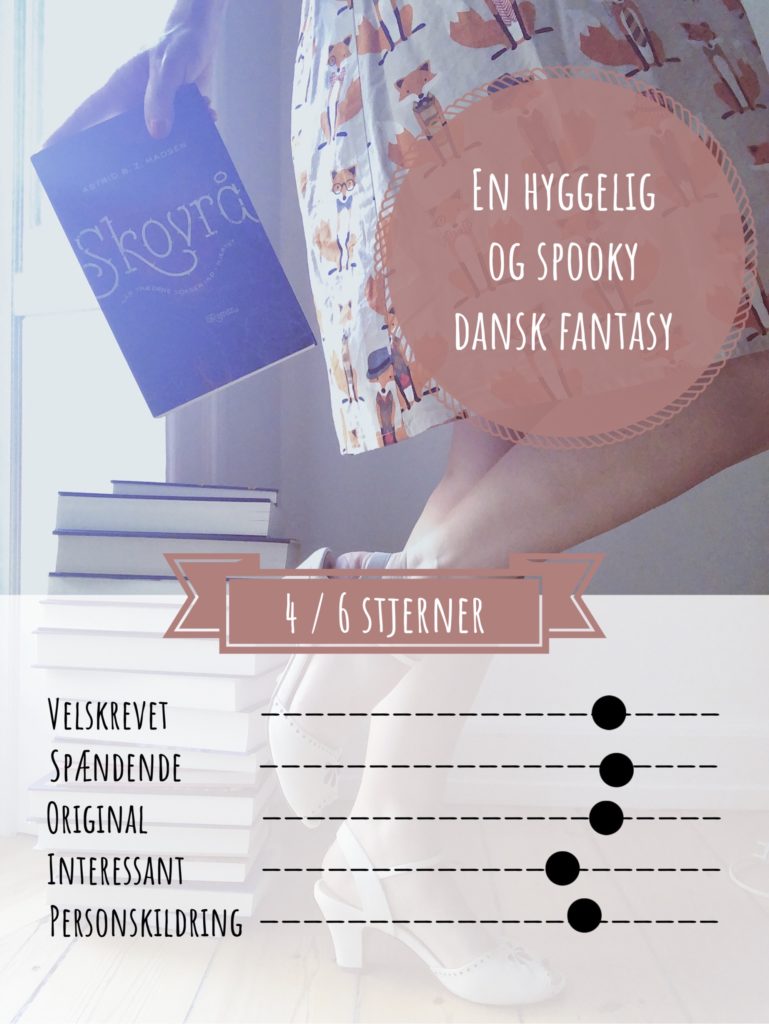 Titel: Skovrå
Forfatter: Astrid B. Z. Madsen
Rating på Goodreads: 3.48 – tilføj bogen på Goodreads
Sådan blev bogen min: Anmeldereksemplar fra People's Press
Cas flytter med sin familie til en ny by, der ligger tæt på en skov. Men det viser sig, at der er noget mystisk ved skoven: den dufter kraftigere, er mørkere og vokser hurtigere og mere aggressivt end andre skove. Og hvad er der med den mystiske pige, der forsvinder ind i skoven?
Skovrå var en positiv lille overraskelse, der med sit simple plot fangede mig på side 1. Det er på mange måder en anderledes fantasy: den bæres ikke af magi eller overnaturlige væsner; snarere en mystisk skov som vi aldrig helt for svar på. Det fungerede rigtig godt: med en fint og underspillet sprog skabes der en stemning og uhygge omkring skoven, der fascinerede mig.
Historien er gribende og jeg endte med at sluge bogen på to dage. Udover beskrivelserne af den mystiske skov, holdt jeg meget af karakterskildringen af vores hovedperson, Cas. Vi får nogle små glimt fra hans fortid, der tyder på, at han måske har en lidt for livlig fantasi og let lader sig rive med. Eller også har han bare været uheldig med de mennesker han har stolet på. Vi ved det aldrig helt, og det kunne jeg rigtig godt lide.
Jeg ville dog ønske, at forholdene mellem karaktererne havde fået mere tid til at udvikle sig; det var lidt for insta-love og insta-friendship til min smag. Og så ville jeg i det hele taget bare gerne have haft mere: mere skov, mere upålidelige Cas, mere hverdag. Bare mere.
Skovrå er perfekt til dig, der vil prøve kræfter med en anderledes fantasy – og dig som kan lide Stranger Things.