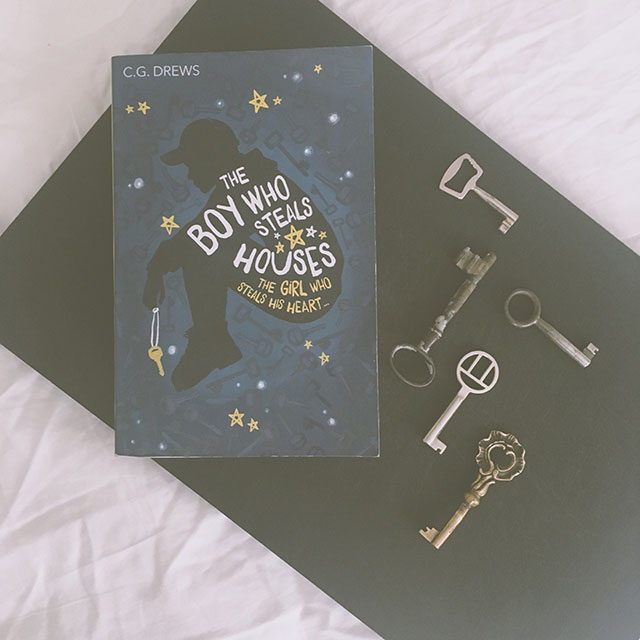 Titel: The boy who steals houses (ikke oversat til dansk)
Forfatter: C.G. Drews – også kendt som Paperfury og forfatteren til A Thousand perfect notes
Sådan blev bogen min: Jeg har selv købt den (dvs. jeg forudbestilte den så snart det var muligt)
En bittersød roman, der fik mig til at græde og grine.
Så blev det endelig tid til at læse C.G. Drews andet skud på stammen. Sidste år knuste hun mit hjerte med A Thousand perfect notes, der fik mig til at grine og græde. Offentligt.
The boy who steals houses (TBWSH) handler om den hjemløse dreng, Sam, og hans autistiske storebror, Avery. Selvom Sam er lillebroderen er det altid ham, der har passet på Avery, da hele deres familie har enten svigtet dem eller vendt dem ryggen.
Sam er god til at spotte midlertidigt forladte huse som han bryder ind i og bor i for en stund. En aften da han er syg med feber, falder han dog i søvn og vågner op til et fuldt hus og befinder sig midt i en kaotisk fest, hvor han forsvinder i mængden.
TBWSH er en varm, humoristisk og hjerteskærende fortælling inspireret af Guldlok. Hvor de tre bjørne er erstattet af en rapkæftet pige, der gladelig deler sin mad med Sam. Og stjæler hans hjerte.
Jeg elskede sproget, universet og karaktererne i dette hjerteskærende stykke socialrealisme. Jeg elskede, at Sam ikke var et uskyldigt lille offer; han er et skadet menneske med fejl. Han er vred, småkriminel og har voldelige udbrud.
Jeg heppede virkelig på de to brødre. Og samtidig vidste jeg, at de ikke ville få en lykkelig slutning. C.G. Drews er en forfatter, der får sin læser til både at grine og græde. Helst på samme tid. Og hun giver ikke ved dørene når det kommer til lykkelige slutninger.
"People understand a cute seven-year-old boy screaming on the floor because he's autistic. They call the police when that screaming little boy becomes seventeen."