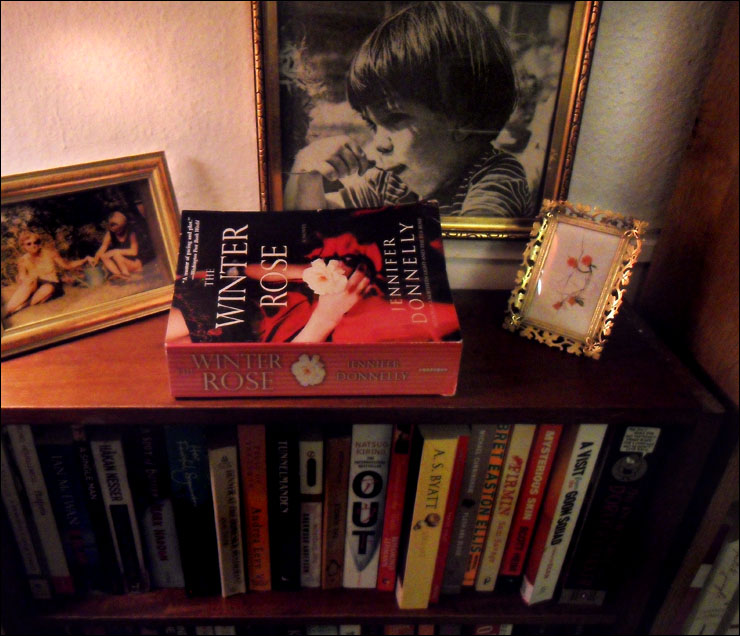 Title: The Winter Rose (The Tea Rose #2)
Author: Jennifer Donnelly
First Published: 2006
My Rating: 2 of 5 stars (average rating on Goodreads: 4:27)
Format: Paperback, 707 pages
First line: Lily Walker could smell a copper a mile away.

This is the continuation / spin-off of The Tea Rose, and it didn't take me long to recognise the style: We have a smart, ambitious young girl with a dream and a determined mind, villains who are vicious beyond compare and lovers that are torn apart.
It started out OK. I quite liked the new the protagonist in spite of her name: India Selwyn Jones. India Jones??? Are you kidding me??!! And no, there are no crocodiles in the story, but there are lions and hyenas. But back to miss Jones. She's a young doctor in late Victorian London with a dream of opening her own clinic and help poor women and children. It was fun and quite interesting to read about medicine in 1900 and I always love following a character with a dream.
The love story was a love triangle seen 100 times before: India's engaged to a handsome politician who's kind on the outside but rotten on the inside. She then falls in love with a villain – who's rotten on the outside but good as sold on the inside. But it was OK at first.
About half way through, I started to lose interest. The template from the first book just became too obvious. And the bad guys were just too evil to be believable. And then I started to notice exactly how clichéd the writing was. Just take a look at this part where a 6-year-old girl talks about her evil father:
"My father doesn't listen to children, Mrs. Carr.
He believes we should be seen, not heard"
Come ooon! Kids don't talk like that! Grown-ups do, thinking back to when they were children.
And the story about the two lovers that were torn apart: I just couldn't take it seriously. First of all, the writing was, again, poorly:
He welcomed the pain in his hands and arms and back.
It blocked out the pain in his heart.
Secondly, I knew they would be separated before it happened, I knew they would suffer the loss and I knew they would be reunited. Because that's the template that Donnelly uses. Somehow it didn't bother me in the first book, but something seemed off in this one. Maybe it's just me, having had enough with the first book, or maybe this one just weren't as good as the first.
In both books, the story is told through various points of views and has many side stories. I liked that in the first book. But in this one, I just didn't like the side stories. The story about Joe (one of the main characters from the first book) didn't grab my attention at all. He was so annoying in this one. And I didn't care one bit about Seamie's story. It just seemed like filling with more clichés. I must admit that I skimmed though parts of this.
So, this is probably the end of the line for me and Donnelly. It's over between us – and I don't think we will be reunited in the end. And that's a shame – the first one was just the perfect guilty pleasure-read. But there are limits: even books that are only meant to entertain must have a certain quality. This one doesn't.
(For readers in English: Make sure you check out the cute cat/book-picture below the Danish review!)

Dette er fortsættelsen / spin-off af The Tea Rose, og det tog mig ikke lang tid at genkende stilen: Vi har en kvik, ambitiøs ung pige med en drøm i livet, skurke, der er ekstremt onde, og elskende, hvis veje må skilles.
Den var OK til at starte med. Jeg kunne godt lide den nye hovedpersonen på trods af hendes navn: India Selwyn Jones. India Jones??? Tager du pis på mig?! Og nej, der er ingen krokodiller i historien, men der er løver og hyæner. Men tilbage til frk. Jones. Hun er en ung læge i det senvictorianske London. Hun drømmer om at åbne sin egen klinik og hjælpe fattige kvinder og børn. Jeg synes det var sjovt og ganske interessant at læse om lægevidenskaben i år 1900 og jeg er altid glad for en karakter med drømme og ambitioner.
Kærlighedshistorien var et trekantsdrama som det er set 100 gange før: India er forlovet med en flot politiker, som er flink på ydersiden, men en skidt person inderst inde. Hun forelsker sig i byens skurk, som er slem på ydersiden, men har et hjerte af guld. Men det var egentlig OK til at starte med.
Ca. halvvejs igennem, begyndte jeg at miste interessen. Skabelonen fra den første bog blev for indlysende. Og de onde var bare alt for onde til at være troværdige. Og så begyndte jeg at lægge mærke til præcis hvor klicheagtige sproget var. Kig en gang på dette citat, hvor en 6-årig pige udtaler sig om sin onde far:
"Min far lytter ikke til børn, Mrs Carr.
Han mener, at vi skal ses, ikke høres"
Come ooon! Børn taler da ikke sådan! Det gør voksne når de tænker tilbage på den gang da de var børn.
Og historien om de to elskende, der blev adskilt: Jeg kunne bare ikke tage det alvorligt. For det første var sproget igen halv-dårligt:
Han bød smerten i hænder og arme og ryg velkommen.
Det blokerede smerten i hans hjerte.
For det andet, vidste jeg, at de ville blive skilt før det skete. Jeg vidste, at de vil lide tab, og jeg vidste, at de ville blive genforenet. Fordi det er den skabelon, Donnelly bruger. Det generede mig ikke rigtigt i den første bog, men noget virkede forkert i denne. Måske er det bare fordi jeg fik nok med den første bog. Eller måske er denne bare ikke så god som den første.
I begge bøger er historien fortalt gennem forskellige synsvinkler og har mange sidehistorier. Jeg kunne godt lide det i den første bog, men jeg synes ikke rigtig det fungerede i denne. Historien om Joe (en af hovedpersonerne fra den første bog) sagde mig ikke så meget. Han var blevet SÅ irriterende!. Og jeg var fuldstændigt ligeglad med Seamies historie. Den virkede som fyld med flere klichéer. Jeg må indrømme, at jeg nøjedes med at skimme dele af denne historie.
Så det er nok her Donnelly og jeg skilles. Det er forbi mellem os – og jeg tror ikke, at vi vil blive genforenet i sidste ende. Og det er en skam – for den første bog var perfekt til guilty-pleasure-læsning. Men der må være grænser. Selv bøger, der kun skal underholde, skal have en vis kvalitet. Og det har denne ikke.