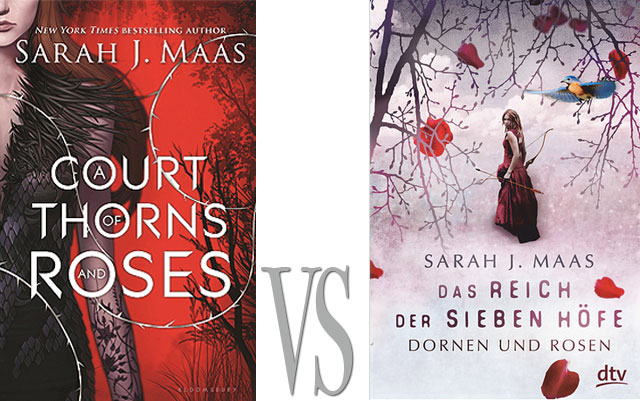 Som så mange andre er jeg blevet grebet af A Court of Thorns and Roses-serien. Selvom jeg egentlig ikke var stor fan af den første bog i serien. Jeg læser serien på e-bog og har ikke anskaffet mig bogen i en 'rigtig' fysisk udgave som jeg ellers plejer. En af grundende dertil er, at jeg var lidt skeptisk over for bogen. En anden er, at jeg synes coveret (det til venstre) er rædselsfuldt. Jeg synes det er trash og helt aldeles frygteligt. Derfor har jeg holdt mig e-bogen.
Og så faldt jeg lige over det tyske cover på Goodreads (den til højre). Det er sgu pænt! Normalt er jeg ikke glad for fotos af mennesker på coveret af en bog, men her er det på så lang afstand og det ligner lidt en tegning, så det generer mig ikke. Jeg kan virkelig godt lide farverne og den stemning, der emmer på coveret. Hvis bare jeg kunne læse på tysk …
Hvad synes du om de to covers? Og hvilket kan du bedst lide?