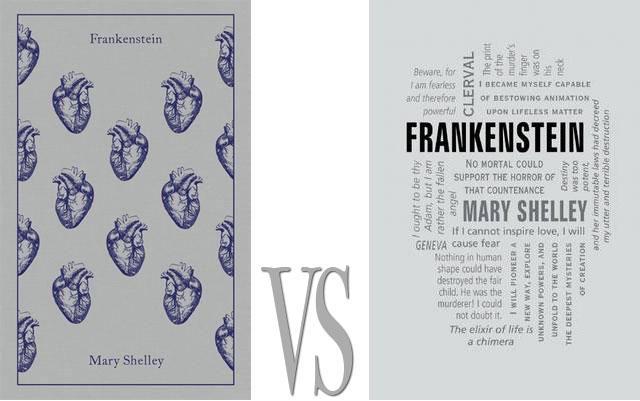 Mr. Boyfriend og jeg er lige gået i gang med at lytte til Mary Shelleys 'Frankenstein' som er en af mine yndlings klassikere. Jeg besluttede mig for, at det var på tide at anskaffe mig en rigtig pæn udgave. Jeg ejer bogen i forvejen: en laset, overskreven og berejst paperback, som jeg har fra min studietid, hvor jeg første gang læste romanen til et kursus i gotisk litteratur. Jeg kunne ikke drømme om at smide den ud, men den må godt få selskab af en yngre og smukkere model.
Der findes virkelig mange udgaver af Frankenstein. Har snævret det ned til to, men ved ikke hvilken jeg skal vælge: Den smukke Penguin Classic til venstre, eller den mere tjekkede Word Cloud Classics til højre? Åh, en bogorms problemer … Hvilken ville du vælge?
---
English Recap
I want to buy a new edition of Mary Shelley's 'Frankenstein', but can't decide which version to add to my basket; The beautiful Penguin Classic to the left, or the more cool Word Cloud Classics to the right? Which one do you like best?