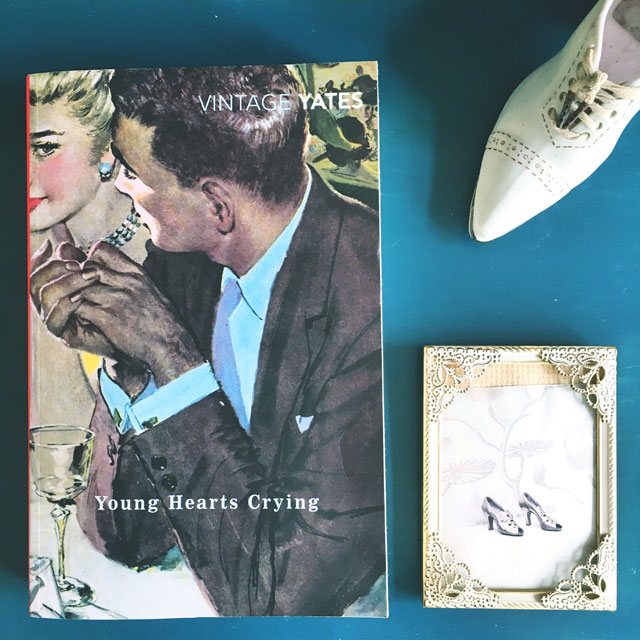 Titel: Young Hearts Crying
Forfatter: Richard Yates
Først udgivet: 1984
Jeg vil anbefale bogen til: Dig, der kunne lide Revolutionary Road og 'Mad Men'. Og som ikke er bange for at læse yderst depressive romaner.
4 af 5 stjerner
I 'Young Hearts Crying' forelsker poeten Michael og den rige Lucy sig og bliver gift. Men de lever absolut ikke lykkeligt til deres dages ende. Michael er ambitiøs, men nægter at lade Lucys rigdom give ham frihed til at skrive. I stedet tager han forskellige jobs som skribent, bl.a. i reklamebranchen. Michael oplever en snert af succes med en digtsamling, men opnår aldrig rigtig anerkendelse. Lucy flakker rundt mellem forskellige grene af kunst – fra teateret til skrivemaskinen til malerier – uden at finde sig til rette nogle steder. Gennem årene falmer talent, ambitioner, begejstring – og deres kærlighed.
'Young Hearts Crying' er en beskrivelse af en generation. En generation af veluddannede og ambitiøse unge mennesker, der inderligt ønsker at realisere sig selv. Men med ambitioner følger ikke nødvendigvist talent. Og med familie og et kedeligt fuldtidsjob tager det ene år det næste. Den langsomme anerkendelsen af, at man ikke bliver den næste store kunstner er svær at sluge, og fører til frustration og bitterhed.
Know what we did, Lucy? You and me? We spent our whole lives yearning. Isn't that the God damndest thing?
Dette er Yates når han er bedst. Hverdagens tomhed, forstadernes kvælning af ethvert talent, kærlighed, der visner og dør, lidenskab, der aldrig vil kunne udfoldes. Det føles lidt som om Yates fortæller den samme historie igen og igen i sine romaner. Eller i hvert fald i de tre bøger jeg har læst. Men han gør det godt, og skriver smukt og medrivende.
There she was, lying on a single bed in a room so small that there wasn't even space for a chair, and the first thing that struck him was that she was beautiful. She had lost too much weight – her long legs were too thin in greasy jeans and her upper body looked as frail as a bird's under a greasy workman's shirt – but her pale and famished face, with its great blue eyes and delicate, thin-lipped mouth, made her look like the heartbreaking debutante her mother might always have wanted her to be.