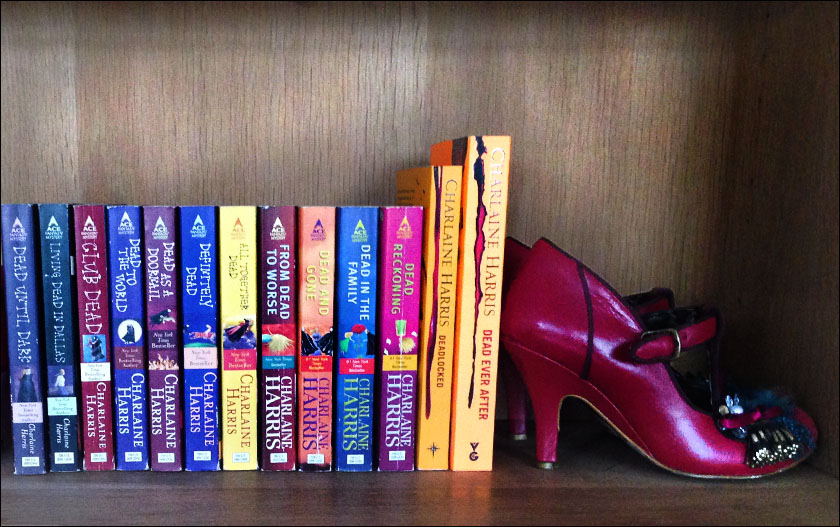 Title: Dead Ever After
Author: Charlaine Harris
First Published: 2013
My Rating: 4 of 5 stars (average rating on Goodreads: 3:17)
I would recommend this book to: True Blood addicts and Sookie Stackhouse fans who dare turn the last page.
Something tragic has happened. I've turned the last page of the final Sookie Stackhouse novel. I knew the day would come, but there's just no preparing for something like this. It's the end of an era and I feel empty inside. How to explain this to someone who hasn't fallen for Sookie?
The Sookie Stackhouse series isn't crammed with action as many other vampire/YA books out there. It's actually quite mundane. We follow Sookie in her everyday life; she cleans her house, does some gardening, prepares meals, gets dressed, does her hair and make up, and goes to Merlotte's where she works as a waitress. And then she reads minds and dates vampires.
Sookie's one of my favorite female characters. She's a very untraditional heroine. You know how fictional heroines are often sooo beyond superficial stuff like appearances because they've got better things to think about? Well, Sookie's vain, wears makeup, loves to sunbathe and chooses her outfits carefully. And she's still cool. I find that refreshing.
Her being a telepath with a weakness for vampires sets the action of the books. I love the vampires in Sookie's world. They aren't dark and gloomy as e.g. Anne Rice's vampires. They're part of society, and it's fun seeing the various interactions between humans and vampires. This is a very creative and unique world Charlaine Harris created – made even more creative in HBOs True Blood series, which I adore. BTW: Don't expect the books to be anything like the TV series!
The Sookie Stackhouse books have been part of my reading agenda for the past three years or so. I've read about four Sookie-books a year, and they've been the perfect in-between-reads. I could always feel a certain longing for a Sookie-book when it had been a while. I don't know what I'll do now that I've turned the last Sookie-page. *sigh*