Who cares about pretty? I'm going for noticeable.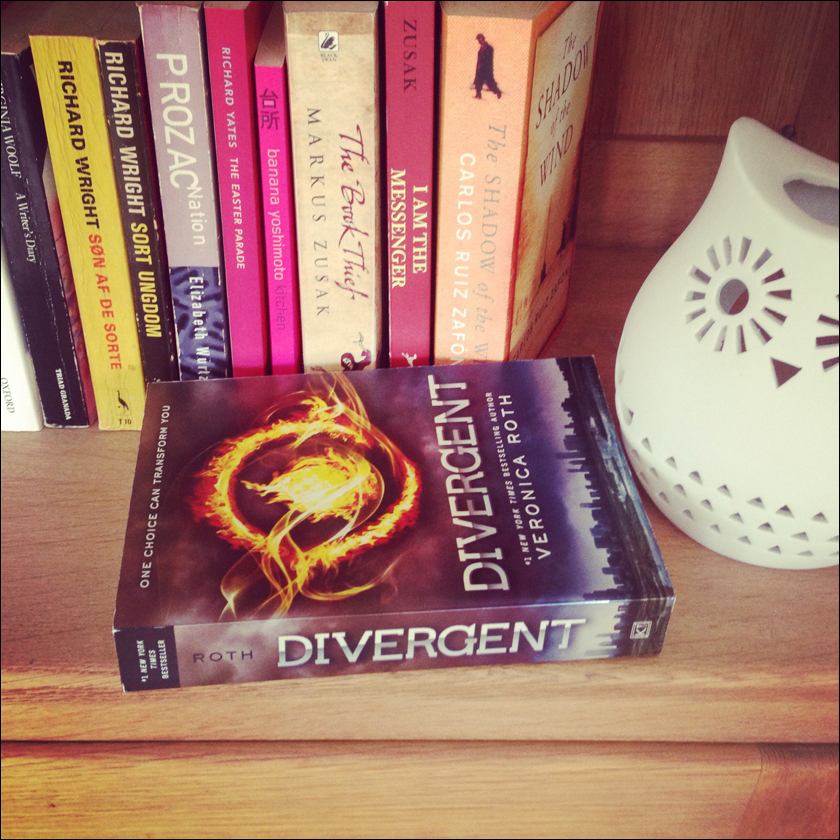 Title: Divergent
Author: Veronica Roth
First Published: 2012
My Rating: 4 of 5 stars (average rating on Goodreads: 4.38)
I would recommend this book to: Fans of The Hunger Games and Vampire Academy – even though it's not quite on their level
The Beginning: There is one mirror in my house.
I finally caved in: I had to see what all the hype was about. Shortly after I bought the novel, it was chosen for me in a Danish Goodreads book club, Danske Læsere – we do this thing where we pair up and choose books for each other from the other person's to-read-shelf. Divergent had just entered my shelf and I was glad that it was chosen for me.
I'm always a bit apprehensive about YA fantasy series. But I got a thing for dystopian fiction. The genre has fascinated me since I read my first dystopian novel, 1984, when I was 18. I love being thrilled at the idea of our world completely changed. The passages that give details on the "new world" are what thrill me the most.
I liked Veronica Roth's dystopian world where society is divided into five factions: Candor (the honest), Abnegation (the selfless), Dauntless (the brave), Amity (the peaceful), and Erudite (the intelligent). You are born into a faction, but when you're 16, you have to choose if you want to stay or join a new faction and leave your family behind forever. Our heroine, Beatrice, has never felt at home in her faction – she knows she's different from her family. But if she leaves, she leaves everyone she loves and everything she knows behind.

Politeness is deception in pretty packaging.

The book was fast-paced and thrilling with a lot of action. During the first 100 pages or so, I thought there was too much action and too little background info. It seemed a bit rushed and superficial to me. I wanted to know more about Beatrice's background, how her life was like before. I think that would have made her development more powerful.
That being said, I was very much entertained by this book. I found myself looking forward to have some quality time alone with Beatrice and her world. And I really liked the character, Four. I actually had a little crush on him …

"Peter would probably throw a party if I stopped breathing.'
'Well,' he says, 'I would only go if there was cake."
The book has its flaws, but I'm hooked nonetheless. It didn't take me long to order the next installment, Insurgent.