The blood is life… and it shall be mine!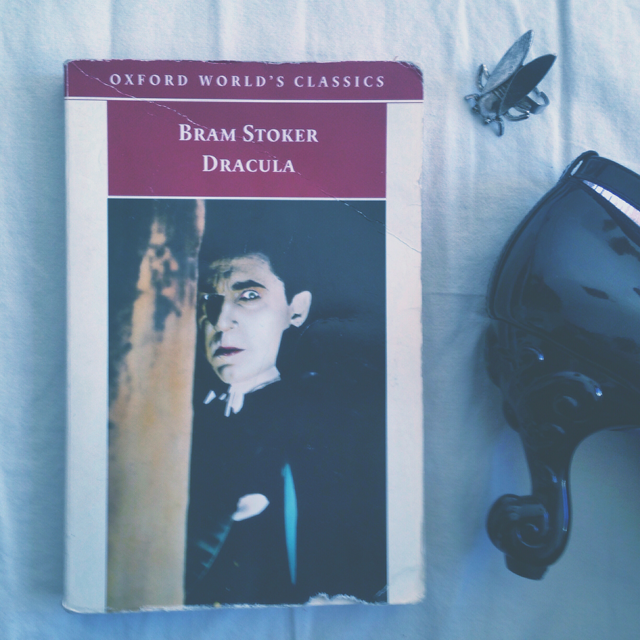 Title: Dracula
Author: Bram Stoker
First Published: 1897
My Rating: 3 of 5 stars (average rating on Goodreads: 3.95)
The Beginning: May 3. Bistritz.– Left Munich at 8:35 P.M., on 1st May, arriving at Vienna early next morning; should have arrived at 6:46, but train was an hour late.
I first read Dracula about 8 years ago for a Gothic literature class. I remember liking it a lot, but also that I lost interest towards the end. I couldn't recall why, and have been meaning to reread the story for a long time. So I decided to revisit the story by listening to the audio book with Mr. Boyfriend.
There are vampires. They are real, they are of our time, and they are here, close by, stalking us as we sleep…
It started out very well, and I really liked it. The part with Jonathan Harker at the castle was incredibly thrilling and atmospheric. And the parts with Lucy were brilliantly scary and unlike anything I'd ever read (apart from the first time I read it). And it's not often that you meet a set of characters like these! Van Helsing never ceased to amuse me. And Renfield! Such a twisted bug-eating lunatic! You never knew what would happen with this little psycho. Not to mention Count Dracula and the voluptuous child-eating women!
And then there were some characters that bored me to death. Lucy's three suitors were just one big blur to me. None of them really stood out (with the exception of one who had an American accent). And somehow they all got along even though they were all in love with Lucy. What's up with that? And Mina Harker was so annoying! What a goody-two-shoes. I came to hate her chapters.
Another thing that bugged was that, while the first half of the story was very exciting and thrilling, the second half seemed like an anti-climax. There were so many repetitions that it almost drove me insane. I couldn't count how many times Mina was praised – it was the same words over and over again. And Lucy's many many treatments were just too much – you don't have to get all the details every time.
It's a shame really, because this could have been such a brilliant read. And it was in many ways brilliant – but long parts were also boring and too wordy. So Dracula only gets 3 stars – even though it had potential of 5 stars.
The last I saw of Count Dracula was his kissing his hand to me, with a red light of triumph in his eyes, and with a smile that Judas in hell might be proud of.