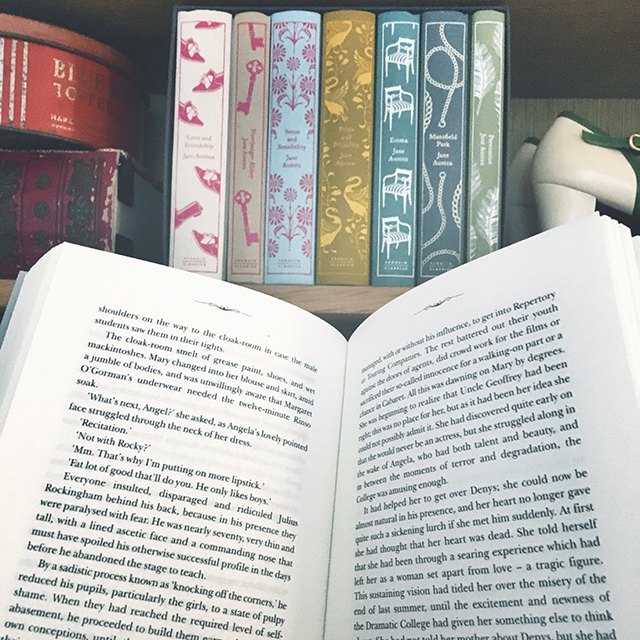 Jeg har lånt og oversat dette book tag fra den altid kreative og super dygtige Paper Fury. Jeg tagger alle, der har lyst til selv at prøve 🙂
Indeholder anmeldereksemplarer.

Yndlings romance
Jane Austens
Pride and Prejudice
er min all-time yndlings romance. Den er bare så perfekt.

Bedste 2'er
A Court of Mist and Fury
er den vildeste 2'er jeg nogensinde har læst. Pludselig gav 1'eren så meget mening! Og hello Boycrush! Ærgerligt, at 3'eren var så kedelig.

En rigtig god fremstilling af mentale lidelser
Et emne jeg desværre ikke har læst så meget om. Men
The Curious Incident of the Dog in the Night-time
gav mig et godt indblik i, hvordan der ser ud i hovedet på en dreng med autisme.

En bog, der fik mig til at græde
Der er
5 her
. Kan fremhæve
Ud af Ensomheden
som er en fantastisk roman.

En bog, der fik mig til at grine
Der er
5 her
–
Rynkekneppesygen
er en overset lille perle.

En skuffende bog
The Midnight Dance
er en af største skuffelser i år. Ét er at skrive en dårlig bog. Noget andet er at skrive en dårlig bog med et fantastisk koncept og et smukt cover. UTILGIVELIGT!

Vilde plot-twists
Man kan som regel finde vildeplot-twists i Sarah Waters' romaner.
Fingersmith
er måske den, hvor det er mest fremtrædende.

Kan ikke tale om den uden at afsløre plottet
Jeg var lidt udfordret da jeg skulle anmelde
More Than This
, da det er svært at beskrive den uden at afsløre alt. Jeg ved ikke, om det lykkedes mig …

Karakterer jeg er allergisk over for
1: Mænd i midtvejskrise. De er uinteressante og jeg orker dem ikke.
2: Piger, der hævder, at de ikke går op i deres udseende men alligevel bruger halvanden side på at beskrive den smukke balkjole de tvinges ned i. Så stå dog ved din forfængelighed! Det gør dig ikke overfladisk!

Bøger jeg burde have læst
Jeg har nogle huller i Paul Austers forfatterskab. Jeg holder så meget af hans bøger, at jeg faktisk føler, at jeg
burde
læse dem alle.

Bøger jeg har givet top-karakter
The Surface Breaks
er den bedste bog jeg har læst i år … indtil videre …

Bøger jeg rigtig gerne vil købe, men har ikke rigtig penge til det …
Hvor skal jeg starte???