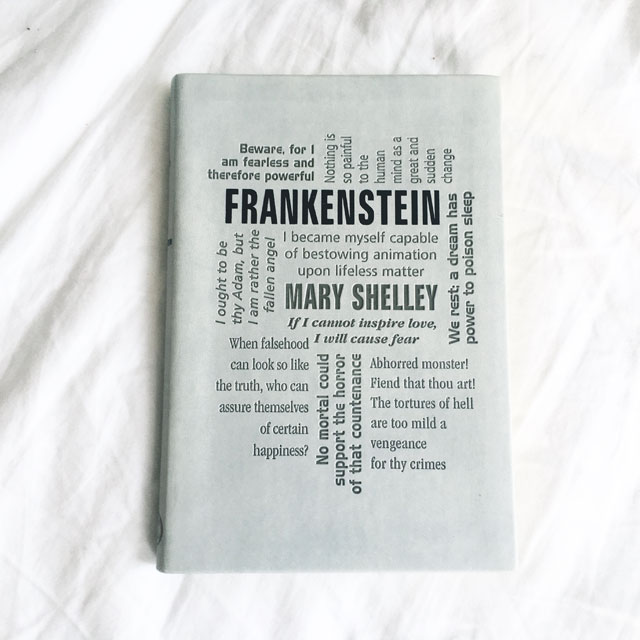 Titel: Frankenstein
Forfatter: Mary Shelley
Først udgivet: 1818
Jeg vil anbefale bogen til: Alle, der elsker klassikere og gotisk litteratur
4 af 5 stjerner
Victor Frankenstein drømmer om at skabe liv. Et smukt og intelligent liv. Det lykkedes ham næsten, men han forfærdes over virkelighedens grimme ansigt. Eller snarere sin skabnings grimme ansigt. Chokeret over det usle liv han har skabt og ude af stand til at stå inde for konsekvenserne, stikker Victor af. 'Monsteret' står alene i en kold og kærlighedsløs verden. Han går sine egne veje, lever i det skjulte og prøver at lære det han kan af mennesker han observerer. Han er et godt og rart væsen. Han hjælper en fattig familie i nattens mulm og mørke, men længes efter venskab og selskab. Gang på gang bliver han afvist. Vanviddet og hævntørsten sætter ind. Victor Frankenstein må stå til ansvar.
If I cannot inspire love, I will cause fear!
'Frankenstein' var på mange måder en banebrydende roman inden for den gotiske genre. Mary Shelley udfordrede det klassiske persongalleri inden for gotisk litteratur, nemlig 'Helt, Heltinde og Skurk'. Vi får vores morders/skurks baggrundshistorie og han vinder vores hjerter. Han er et sødt væsen, der til at starte med ikke kunne gøre en flue fortræd – han er ovenikøbet vegetar. Vi lærer at forstå, hvorfor han ender som han gør. Vores 'helt', Victor Frankenstein, har derimod overfladen i orden; han er en respekttabel, veluddannet gentleman som ingen mistænker noget ondt, selvom han i virkeligheden er en ansvarsløs, selvoptaget kujon, der svigter det liv han har sat på jorden. Kun heltinden, Elizabeth, fremstilles som den klassiske heltinde vi har mødt mange gange før inden for genren; sød, mild, passiv og ubehjælpsom. En kvinde, der skal reddes (hvis hun kan reddes).
There is love in me the likes of which you've never seen. There is rage in me the likes of which should never escape. If I am not satisfied int he one, I will indulge the other.
'Frankenstein' er stadig en yderst relevant fortælling. Den beretter om det ansvar vi har som forældre, når vi sætter et liv i verden, og den gør opmærksom på, hvordan vi som samfund ofte udstøder det, der er fremmed for os. Derudover er den et psykologisk portræt, der prøver at forklare, hvad der ligger bag et monsters facade.
I ought to be thy Adam, but I am rather the fallen angel.
Give away: Husk, at du kan vinde denne flotte udgave af Frankenstein lige her.