I thought that Mr. Clutter was a very nice gentleman. I thought so right up to the moment that I cut his throat.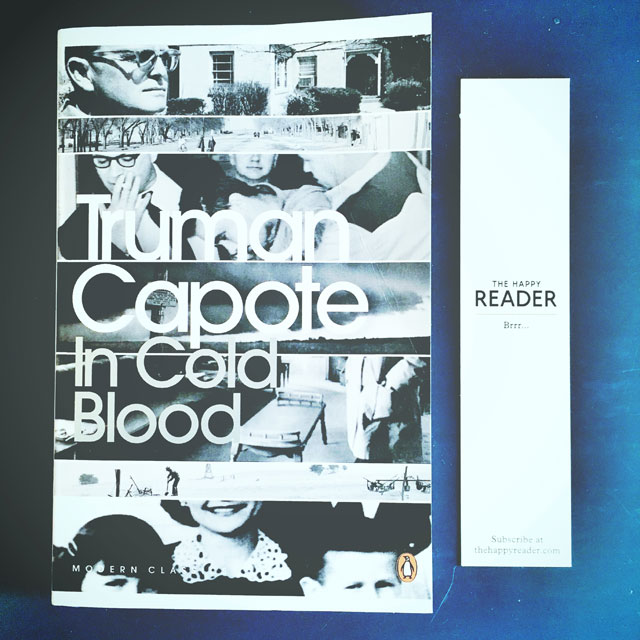 Titel: In Cold Blood
Forfatter: Truman Capote
Først udgivet: 1965
Jeg vil anbefale bogen til: Enhver med interesse for mord og god journalistik
Sådan starter den: The village of Holcomb stands on the high wheat plains of western Kansas, a lonesome area that other Kansans call 'out there'.
3 af 5 stjerner
I 1959 blev der begået et mord i Kansas. De fire familiemedlemmer i Clutter-familien blev brutalt myrdet. 'In Cold Blood' er en rekonstruktion af disse mord. Han går bag familiens facade og fortæller deres historie op til mordene. Han dykker ned i forbrydernes opvækst og forsøger at beskrive, hvad der lå bag disse tilsyneladende meningsløse mord. Vi kommer ind på huden af lokalsamfundet og opklaringen af mordene.
The enemy was anyone who was someone he wanted to be or who had anything he wanted to have.
'In Cold Blood' er ufattelig velskrevet. Man glider igennem historien som var det en roman. Capote har eminent talent for at portrættere de forskellige mennesker vi møder i denne grusomme og triste fortælling. Jeg var dybt fascineret fra starten, men denne fascination varede dog ikke hele bogen igennem. Jeg nød detaljerne og var begejstret for rekonstruktionen af mordene, Clutter-familiens historie, deres venner i byen, forbrydernes historie og reaktionerne i lokalsamfundet. Filmen knækkede dog for mg, da vi kom for langt ud med detaljerne. Jeg havde ikke behov for at høre den ene morders søsters historie. Eller historien bag alle dem, der sad på dødsgangen på samme tid. Slutningen var dog ufattelig smuk. Helt perfekt.
Then starting home, he walked toward the trees, and under them, leaving behind him the big sky, the whisper of wind voices in the wind-bent wheat.
Jeg lyttede til 'In Cold Blood' på lydbog (audible) sammen med Mr. Boyfriend. Jeg har givet den 3 stjerne, mens han valgte at give den 4 stjerner. Han lagde vægt på, at det var et stykke godt og velskrevet journalistisk arbejde.
By the way: tak for input til dem, der hjalp mig med at vælge cover 🙂