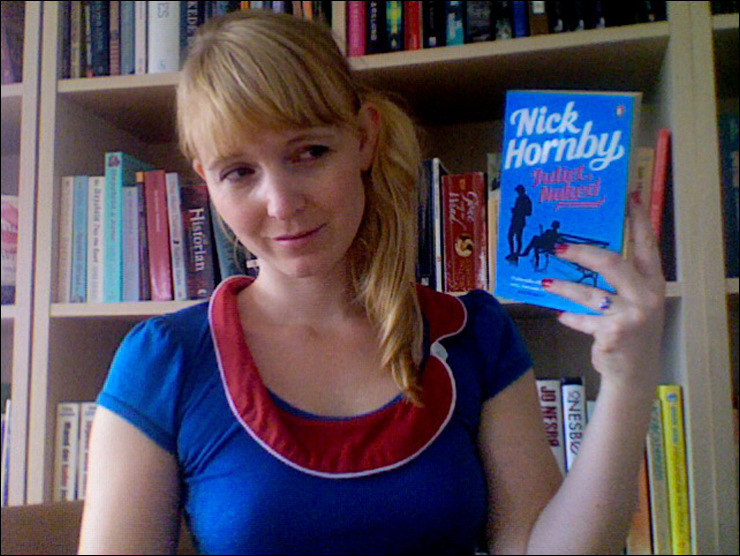 Juliet, Naked by Nick Hornby
My rating: 3 of 5 stars
Jeg har været meget i tvivl, om jeg skulle give denne bog 3 eller 4 stjerner. Jeg kunne rigtig godt lide karakterene og synes de virkede realistiske. Og jeg grinede højt op til flere gange, hvilket man jo også forventer når man er i selskab med Nick Hornby. Men for mig virkede plottet også lidt tyndt … og måske også ufuldendt. Synes ikke rigtig der var nok materiale til en god roman. Men epilogen redede faktisk min opfattelse: jeg grinede meget højt! Spot on! Det fik mig il at overveje at give bogen 3.5 stjerner, men jeg er ikke til halve, så jeg holder mig til 3. Og det betyder bestemt ikke, at det ikke er en god bog: det er perfekt let læsning til ferien … eller hvis du ligger syg i sengen – som jeg gjorde da jeg læste den.
Har I set, at min top matcher bogen? Det er en halvgammel og højtelsket sag fra Rockahula på Istedgade.
I've been in a bit at a toss about whether to give this book 3 or 4 stars. I liked the characters and found them quite realistic and interesting. And the book had a few laugh out loud moments, as is expected when we're talking about Nick Hornby. But to me the plot seemed a bit thin … and unresolved somehow. To me, there just wasn't enough materiel for a good novel. But the epilogue saved the book: I laughed out very loud! So spot on! That made me consider giving the book 3.5 stars, but I don't do halves, so 3 it is. That doesn't mean that it's not a good book: it's a perfect light read, something to bring on a holiday … or to read if you're in bed with a cold – like I did.
Did you see that my top matches the book? It's an old and much loved thing from Rockahula in Istedgade.
Follow me: Bloglovin * Facebook * Pinterest * Lookbook * Goodreads